An Auckland couple offer disabled people experience of wonder and achievement performing for their communities.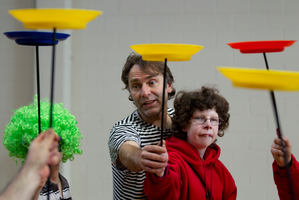 The first thing Andre tells me as he shakes my hand is that he knows everything.
"Do you know everything?" he asks, and when I tell him that the older I get, the more I realise how little I know, he looks puzzled.
"Why don't you know everything?" he demands, and there's a trace of impatience in his voice, as though my measureless ignorance is an act of wilfulness that deserves reprimand.
" I know," he continues, in a tone that seems to portend a Very Important Announcement, "that Dacron was invented in Australia. Terylene too."
I am in no position to argue - although later research suggests Andre may be misinformed. But what he does know is how to spin a plate on the end of a pointer. He showed me how to do it - quite patiently, considering how persistently inept I was at the task - at the Auckland Community Circus.
Andre is one of a dozen or so who arrive at the large warehouse space in light-industrial Morningside on a bitterly chilly Friday morning. They pile out of vans, their backpacks bulging with their morning tea and their eyes wide with excitement. It's another of the regular rehearsals for an upcoming show under the banner of what's known as Circability.
As its name implies, the circus is for people of mixed abilities. That, it turns out, is not a euphemism for a journalist who cannot master the spinning plate trick that Andre finds so easy, but for people with various levels of more substantial disability. The class this morning includes a contingent of Down syndrome adults and a wheelchair-bound teenager.
Leading proceedings are the circus' creative director Thomas Hinz and project manager Frances Kelliher. They start with tasks so simple I can almost keep up: tossing a juggling ball in the air while trying to maintain perfect verticality, or imagining the upper hand is a magnet drawing the ball up from below.
The hula hoops come out, evoking uncomfortable school memories of the hoop juddering around my ankles while the brown girls gracefully swayed and smiled indulgently. Hinz has other ideas here. Each member of the group in turn comes into the circle and performs some simple but eye-catching manoeuvre. Hula hoops striped like barber's poles look impressive as they pirouette after a simple twist.
Later, over beers in their Grey Lynn backyard, Hinz and Kelliher explain that Circability is only incidentally about performance.
"The work is really a tool to get people who are often hidden from view interacting with the community they live in," says Hinz. "And circus is a magic way to do that because it's so easy to access.
Everyone knows what a circus is, what a clown is, an acrobat, a juggler. It gives them a chance to show off some skills and it's a good feeling right from the beginning."
Kelliher explains that just the previous day, one class member had spent the entire time covering his head, paralysed by a refusal to participate. By the end of the morning he had accepted a ball which he held in a tight grasp while maintaining his determined aloofness.
"It seemed like so little," she says, "but it was a lot."
Central to the idea of a circus is the audience amazement at the achievement of something that looks impossible. And impossibility is relative to ability, Hinz explains. He remembers a young man with cerebral palsy who "tightrope-walked" the length of a short, low, wide bench as onlookers held their breath.
"We talked it up as a man on a rope 25m up, without a net, walking 50m from one side to the other, because that was what it felt like." Predictably, it brought the house down.
Hinz, who began to work with the disabled in his native East Germany before the Wall fell, and Kelliher, a Kiwi, met each other in Egypt where they worked on a show with Somali tribesmen.
Their community circus, now 10 years old, was developed in Dargaville, where it was aptly named Kumarani and enthusiastically embraced by the locals.
Back in the studio, Hinz has the entire troupe spinning those plastic plates, slightly conical and with a dimpled hole for the stick that will hold them aloft. He arranges them in various formations, standing back to take in the effect.
"That looks great," he says, like an impresario decreeing a Broadway show ready for opening night. "That will be wonderful."

For more information go to
communitycircus.co.nz