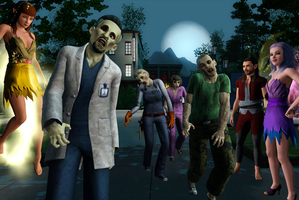 Come close and let me tell you a story to chill your spine and give you nightmares...
This latest title's no Evil Dead or Poltergeist, but the otherworldly overhaul that Sims 3: Supernatural brings to the game is still pretty damn cool, especially after the ultra saccharine-sweetness of the last expansion pack, (Katy Perry's) Showtime.
The new town that comes with Supernatural is called Moonlight Falls, which upon first glance, seems rather ordinary. But if you look closer you'll see that there are some intriguing new locations, including the Arboretum, where fairies and other supernatural types go to play, an elixir shop, gypsy caravan, and even a broom arena where witches can perform their best flying stunts. Dotted around the town are fairy houses, strange mushrooms sprouting up under trees and a heap of new plants, like mandrakes, truffles, and ghost chillies.
There's a new mechanic introduced in this expansion as well: the lunar cycle.
When that big ol' full moon rolls around everything gets a little crazy: werewolves go on the hunt, fairies slip into a sort of lunatic mode, embracing and then slapping people at random, while plant-hunting zombies mysteriously appear, shambling and groaning around the neighbourhood. Just try throwing a party during a full moon, and see what chaos ensues.
Magic plays a big part in this new expansion as well, with witches, fairies, and - to a lesser degree - genies all gaining new spellcasting abilities. Playing as a witch is the most fun, as they get to fly around on a broom (or fancy vacuum cleaner), and use a wand to cast spells or curses on other Sims. Witches, as they advance in magic spellcasting, gain the ability to magically upgrade appliances, turn people into zombies (or toads), cast love spells and even put out a fire with a well-timed ice spell. There's a reasonable number of spells available, and I genuinely enjoyed looking at different ways I could use them around town, whether I was causing havoc or spreading peace and love.
Another cool new feature is the alchemy skill, which lets your Sim create all sorts of new elixirs out of gathered ingredients (bugs, mushrooms, gems and the like). You can create potions to help break the ice with someone new, turn them into zombies (temporary or permanent), cause a bee attack, or even help out a vampire with some special sunscreen. Elixirs can be drunk, gifted to (or thrown at) another Sim, or sneakily disguised as a 'mystery drink' that hopefully someone will pick up and drink unwittingly.
The goodies really do just keep coming. Supernatural also includes heaps of new clothes and hairstyles, gothic and fairy-themed furniture sets, a fortune-telling career, new music genre 'Dark Wave', new plants, fish and gems, new recipes, traits, as well as the ability to write poetry. There's a magic mirror to talk to, and even Bonehilda, the skeletal maid from Makin' Magic, makes a return.
It's an expansion in the very best sense, and now up at the top of my list of Sims 3 must-haves.
Stars: 4/5
Platform: PC
Classification: M