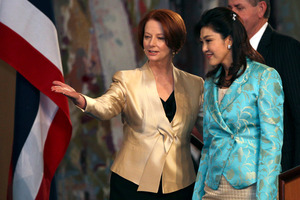 Another week, another wedge hammered into Prime Minister Julia Gillard's battered pedestal.
Yesterday, as pensioners began receiving the first payments in the series planned to compensate for cost-of-living increases expected from July's new carbon tax, Opposition leader Tony Abbott barely mentioned his favourite scare story.
Instead, he was belting Gillard with renewed leadership speculation, bolstered by public divisions within the Government and union anger over an agreement to allow multi-billionaire Gina Rinehart to import foreign workers for a new West Australian iron ore project.
Added to earlier speculation, record lows in opinion polls and continued furore over former Labor MP Craig Thomson's alleged misuse of more than A$400,000 ($517,280) of Health Services Union funds, Gillard's horizon looks darker than ever.
The undercurrent running through Labor is that Gillard is losing control of the Government and, by failing to keep her political agenda on track, threatens to hurl the party into the badlands for years to come.
Gillard began her prime ministership by axing predecessor Kevin Rudd in a coup that disgusted and infuriated many voters - Rudd remains significantly more popular - and backflipping on major policy promises, including the carbon tax.
Her majority has been whittled away, and her credibility shaken further by the allegations involving Thomson and Peter Slipper, a turncoat Liberal elevated to the Speaker's seat in a deal with Labor and now forced to stand aside by claims of sexual harassment and fraud.
Each time Gillard appears to be clambering out of the hole, she blows it. Sidetracked and distracted by scandal and internal problems, Labor has been unable to bring attention back to its legislative successes or to sell key policies.
Even this month's Budget, with its billions of dollars in handouts to low- and middle-income families, has been overshadowed by Thomson and the resulting fallout, and now by the migrant worker deal with Rinehart.
The agreement's rationale makes sense. Even with huge wages, Australians are reluctant to subject their family lives to the sacrifices needed to work in the harsh, remote north of WA.
A federal resources employment taskforce, which included union representatives, last year found that 45,000 workers would be needed for resources projects construction work in 2013-13, and that 65,000 new jobs would be created within three years.
But miners could be short of 36,000 skilled workers.
While advocating training and jobs for Australians, the taskforce concluded that foreign workers would be needed to fill gaps during the construction phase and recommended enterprise migration agreements allowing miners to import labour.
A key consideration was the need to assure investors of an available workforce.
The agreements were announced in last year's Budget, but erupted in Gillard's face over the weekend.
There was first the fact that the Government had been hammering billionaires, and Rinehart in particular, as Australia's new evil empire, using their wealth to subvert policy to further boost their profits.
Then came the suggestion that Australians were about to lose out to foreign workers, sparking reports and reactions that breached the principle of Cabinet solidarity, set Gillard at odds with ministers, outraged the Labor left and infuriated unions.
The weekend media was abuzz with reports that Gillard supporter and Chief Government Whip Joel Fitzgibbon had finally spat the dummy and was canvassing colleagues with the argument that Gillard was killing the party and Rudd should be returned.
Gillard has been trying to calm nerves with continued insistence that she will be taking Labor to the next election and that the Rinehart deal - as with the others that will follow - requires Australians to be hired first, with foreigners employed only when there is no other option.
Senior ministers have also been out stamping on any suggestion that Gillard is under threat from a leadership challenge, and the Rudd camp has kept its head down.
Fitzgibbon has not commented, other than to tweet that "no one does more to support the PM and the Government than me".
An early move against Gillard at this stage seems unlikely. The Government hopes the Budget bonuses and tax cuts from July, and acceptance of the carbon tax due to start the same month, will help steer it back on track.
If Gillard fails in that, the year's second half could turn nasty indeed.