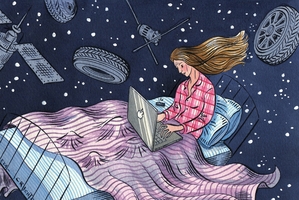 There's an upside to kids' obsessive computer use - it's keeping them off the road.
Ah, parenting. If something is making your life easier, like lots of television for the youngsters while you try to fill in your tax return, it'll most certainly make life harder in another way, such as a level of advertising that appears to reprogram their frontal lobes.
In short, there are no shortcuts. Facebook, which keeps teenagers amused for hours, is another modern convenience that giveth with one hand and taketh away with another. Stops non-stop gabbing on the phone and endless loops of Pink Floyd's Dark Side of the Moon? Affirmative. But it's also a cesspit of predatory sexual grooming, bullying, and drug-recipe-sharing shenanigans, according to constant media reports.
Even if what you're posting on or talking about isn't lurid, social networking is an addiction that can be all-consuming for people of all ages. As someone who can say, a la Princess Diana, that there are "three people" in my marriage - myself, my husband, and his iPhone - I can attest to its seductive sway.
A survey by British digital marketing agency dnx found that about 3 per cent of Britons are so ruled by technology they can go for several days without interacting with fellow human beings.
Meaning, not only do they do all their "talking" via text and email, Twitter and Facebook, but they also prefer to buy meals from vending machines, self-serve at supermarkets, and pay bills online.
Talking to other people face-to-face is an activity these new-age hermits would most definitely prefer to avoid.
But perhaps something positive has come out of the fact everyone - especially the young - has his or her head jammed up against computer monitors: fewer road deaths.
In the United States, for example, over the past decade the distance young people under the age of 35 are driving is down 25 per cent. One in four young people has no licence. The nose-diving economy has made cars and petrol simply too costly for teenagers, meaning more are staying home, connecting on Skype or the myriad other digital exchanges, and when they do go out they are helping to fuel a revival of public transport.
But it is also believed that they prefer to visit electronically, eschewing a licence, and in many cases turning their backs on cars altogether.
US teen road deaths have been falling for the past eight years on the back of these trends; fatalities in this group have only recently started rising again as the economy improves and once more young people get behind the wheel.
Still, social media continue to flourish. Facebook will float this year and is valuing itself at up to US$96 billion ($122.2 billion).
Parents may be flocking to the site to keep track of their loin fruit, but the bulk of its clientele must surely be the young (some naysayers say Facebook will struggle to justify its valuation unless it can continue growing. But are there any more people, aside from the Upper Voltans and lost tribes of the Amazon, who aren't already customers?).
If we can keep cyber-bullying under control, keep track of what our teens do online, and ensure they occasionally get to talk to a living, breathing person, we may be able to improve our horrible teen car-crash statistics, undo our much vaunted "car culture", grow the demand for public transport and keep our precious children alive by encouraging them to connect digitally. Of course, they may become obese as a result - but that's a whole other issue to wring our hands over.