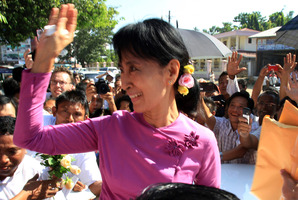 Aung San Suu Kyi. Photo / AP
When Aung San Suu Kyi spoke to the crowds of cheering supporters outside the National League for Democracy headquarters in Rangoon on April 2, she rightly passed the credit for her election victory back to the Burmese people.
The sheer scale of Suu Kyi and her party's victory at the polls - they won a resounding 43 out of 44 seats they contested or 95.6 per cent of the total vote - points, not just to the popularity of "The Lady" herself, but also to the genuine thirst of the Burmese people for a "real" democratic system.
No human being, or nation, willingly chooses to live in an environment of endless disempowerment and fear, and they will always choose, if given the opportunity, a democratic option which allows for some human dignity.
Yet a quick fix approach is clearly not the preferred option. The Burmese people have waited too long - almost half a century in fact - to be satisfied with democracy which is only skin deep. They want more than grand gestures and artifice.
They want democracy which is deep penetrating, structural, permanent and wide spread.
Despite complaints of vote tampering in the latest election, it is safe to assume that the overall intention of the military Government was to allow a genuine, although limited, democratic process to get under way. The results of the by-election alone are testament to that.
But history tells us that it is not the election itself, but what happens afterwards that is what is really important. In 1990, the NLD took 82 per cent of the vote, yet the result was famously nullified by the generals.
In the 2010 election, rather than again face the embarrassment of defeat, they set things up to ensure Suu Kyi would never run.
New election laws were established which barred anyone with a criminal conviction from becoming a candidate - a measure clearly targeted at Suu Kyi, who was under house arrest.
In response, the NLD boycotted the election and the military-backed Union Solidarity and Development Party (USDP) was able to declare a victory.
Yet the new military-backed administration of Prime Minister Thein Sein is clearly a different kind of political animal to the one which existed back in the 90s, or even in 2010, and lessons have clearly been learned.
Burma's rulers desire credibility in the international community and have learned, albeit slowly, that it can't be obtained by simply erecting the artifice of democracy and holding bogus elections.
They have come to realise that the way forward is to hand over real political power to the person who they spent so long trying to silence - the face of Burmese democracy, Suu Kyi.
Sein may be a genuine reformer, but he clearly hasn't secured the backing of military hard-liners on "good vibe" politics alone. Change in Burma has been a careful and calculated process and an ongoing place at the table for the old guard was firmly secured before any power was handed over.
As things stand, 25 per cent of the seats in Parliament are non-elected seats reserved for the military. The military-backed USDP party holds 52 per cent of all seats and Suu Kyi's NLD a meagre 6.4 per cent.
Clearly this is a vast improvement on the days when the military ran the whole show, but it is still a long way from true democracy.
Change takes time and we must all be patient and give the reformers in Burma's quasi-civilian Government the chance to bring the country closer to real democracy. Yet, it is important to remember that giving Burma's new rulers a chance is not the same as giving them the benefit of the doubt.
The international community must remain vigilant and not rush to ease economic sanctions too much too soon. It must always be a tit-for-tat process - one more step towards democracy equals one more step towards lifting sanctions.
It has taken an incredibly long time, but the long-running programme of sanctions against Burma is finally beginning to bear fruit and the trend looks like it will go on.
Suu Kyi's platform in the recent by-election focused on three key points: reform of the 2008 Constitution, the rule of law and national reconciliation.
Of all of these, constitutional reform is probably the most important as it is an opportunity to institutionalise democracy across the whole political system.
In 2015, Burma is set to have a general election and that will be the true litmus test of democracy there.
Let us hold our breath and wait until then before we pop the champagne and light the fireworks.
Will it be an election which is free and fair and where all 664 parliamentary seats are democratically contested, rather than only 45? And what of Suu Kyi?
She has always been on the outside looking in. Can she now walk the inner corridors of Naypyidaw and rub shoulders with the generals - her former captors - without compromising her vision for Burma?
We would like to say, with a lot of hope, "yes". If anyone can, The Lady can.
Naing Ko Ko was a recipient of the 2010 Amnesty International New Zealand Human Rights Defender Award and is a former Burmese political prisoner. Simon Scott is a Tokyo-based journalist who writes on Japan and Burma-related issues.