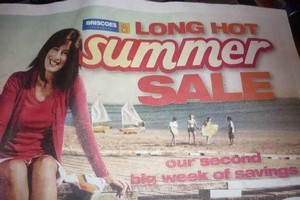 Wolfing breakfast
A reader was put off breakfast by "a couple at a nearby table who had two dogs with them, a large dog, lying quietly on the floor, and a poodle. The lady stroked the poodle in her lap, disbursing its fur and drool all over the table. As a dog owner myself, I thought this was unhygienic ... However, it got worse when their meal arrived. She put the dog on the chair next to her and continually fed it bits of her breakfast ... What you do at home is your business, but I think it was disgusting, unsanitary and disrespectful to do this in a restaurant at a table where other people have their meals. I was very surprised that the manager didn't have anything to say about this."
Recipe for stern treatment
When you go to court, it's best to dress demurely. But a Fort Lauderdale man accused of drug trafficking showed up for court wearing a jacket that bore a how-to guide for making crack cocaine, with a series of little pictures of a white substance with a spoon, a carton of baking soda and a little pot over a fire.
The end product was a "rock", slang for the drug. The man's lawyer said his clients still surprise him by wearing drug-related attire to court. "Giant marijuana leaves on their T-shirts ..." In this case the jacket was noticed by media but not the judge.
Toll road cash pipeline
"The Northern gateway toll road must be raking in the cash," says Penny. "On our way to a camping holiday on January 3 we saw notices telling us that we can pay by ringing an 0800 number. So we don't stop to pay at the booth. We ring and get a voice message saying that it is statutory holidays and they don't work then and we'd better pay within five days or be fined. Okay, so we're heading back down on January 7, a Saturday, we didn't take the toll road, but rang in to pay for the way up. A recorded message told us it was a weekend and 'we don't work weekends'. We get to the place we are staying - no internet so we can't go online to pay. By the next possible non-weekend and non-statutory day we have exceeded the five-day limit, so have to pay a fine on top of the $2 ... All those fines and they don't even have to cope with overtime for their call centres."
TV hosts eat each other
The two hosts of the Dutch TV show Guinea Pigs ate pieces of each other's flesh (fried in sunflower oil) to describe the taste live on air. Dennis Storm and Valerio Zeno underwent surgery to have small chunks removed for cooking, with Zeno perhaps faring worse (a piece of Storm's "bottom") compared to Storm (who got part of Zeno's waist). The pair described cooked fatty tissue as rubbery and disgusting, and muscle as indistinguishable from other meat. Police weren't investigating. (Source: News of the Weird)