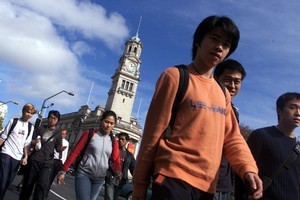 Oooh, Margaret Mutu said some naughty words. Quick, tell the Race Relations Commissioner.
I don't think Mutu should be sacked for her remarks. She said the majority of white migrants brought "white supremacist" attitudes to New Zealand and that she couldn't be labelled racist because Maori were not in a position of power.
It's an academic definition of racism which ignores the power of individual Maori MPs and business leaders and, indeed, Mutu herself, who heads Auckland University's Maori Department.
Yes, she gets away with it more than Pakeha because she's Maori, but so did Billy T. James and Sir Howard Morrison with their racist jokes in the old days. We have to remember and accept that.
But as when our wicked children blurt out the F word to show how "clever" they are, we should just ignore Mutu when she's rude, not make a martyr of her.
Fortunately, Mutu does not speak for all Maori.
Unfortunately, the flurry following her remarks eclipsed the report she was responding to - a Labour Department survey which apparently found Maori, significantly more than Pakeha, are opposed to increased immigration. This needs further investigation because our demographics are changing as a result of immigration.
It is predicted that by 2026, New Zealand's population will be 15.8 per cent Asian and 9.6 per cent Pacific peoples.
These groups' average annual growth rates will be 3.4 per cent and 2.4 per cent respectively, contrasting with 0.4 per cent and 1.3 per cent projected growth rates among Europeans and Maori. Maori will comprise 16.2 per cent of New Zealand's population - only slightly higher than today.
(Mutu doesn't mind Asian immigrants, apparently.)
That's 15 years out, so imagine 50 years from now, when many of these people have intermarried and had children and grandchildren. Will there be peace or will talkback lines still melt down in fear and loathing over pale faces from Las Vegas who may want to move to Godzone?
There is undoubtedly racism in New Zealand but not all is calculated. I reckon some immigrants are just fearful and ignorant. So perhaps we could do more with the Treaty of Waitangi than just use it to settle grievances.
Fiona Barker, lecturer at Victoria University with a particular interest in the politics of immigration, has written a fine essay on this very issue - "We, the Peoples: Debating constitutional change in New Zealand's diverse population". She convincingly argues that if the Treaty is merely a tool for settling historic land claims, there can be no further use for the Treaty when all claims are settled.
"It is appropriate," Barker writes, "to retain key institutional guarantees for Maori, based on their status as Treaty partners and an indigenous minority whose cultural and political survival is guaranteed, as long as its members desire.
The common juxtaposition of biculturalism and multiculturalism as competing alternatives is misleading, since multicultural rights to cultural practice can exist alongside guarantees of Maori representation grounded in Treaty relationship".
But Barker argues that New Zealand would be foolish to exclude newer citizens from our debates about ethnic or linguistic divisions on the grounds it is "not their affair" because that would undermine their "status as full citizens and risks weakening their longer-term buy-in to political and constitutional settlements".
She recommends promoting successful integration by providing "systematic civic or historical education for new citizens" which would "begin to give them 'ownership' over the country's history".
I think this is a good, positive idea. As Barker says, we already have citizenship ceremonies, so why not extend this to welcoming immigrants on to marae? Why stop at immigrants and refugees? How many indigenous New Zealanders have experienced full marae hospitality and protocol? For today's schoolchildren it's a given, but my generation missed that privilege and, until you have, can you really call yourself a New Zealander?
It's our choice, really. We can selfishly think about me, my world and I, hurl insults at each other then run to authorities with complaints with the usual outcomes.
Or forget about ourselves and picture the country our grandchildren will live in. Don't we want to leave a New Zealand where, in 50 years' time, we've stopped having petty scraps about immigration and the Treaty of Waitangi?