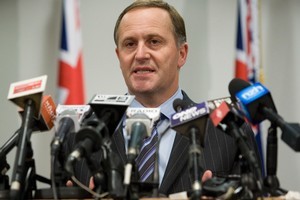 So begins the new season of that political sport known as "the tacit nod" - hints of varying grades of subtlety which political leaders give their followers to vote a certain way, to decrease their opponents' chances or increase those of their allies.
National Party leader John Key is at risk of whiplash, so severely has he been going at the game.
For those who missed his hints, National voters in Epsom have been told to vote for Act's John Banks and in Ohariu for United Future's Peter Dunne, and all voters have been told not to bother casting their vote for NZ First or the Mana Party if they expect to see them in coalition with National.
The Epsom and Ohariu deals alone are barely noteworthy, despite cries of "stitch-up" from the Opposition. The head-nodding is almost superfluous now, simply another ritual scheduled into Key's election-year diary. It would be far more newsworthy if it didn't happen.
But there's an intriguing twist this time round.
This is the first time National has extracted a price in return. Deals have been made under which Act will not stand candidates in at least two marginal seats to maximise National's chances - Waimakariri, held by Labour's Clayton Cosgrove, and New Plymouth, which National's Jonathan Young holds with a tiny majority. Up to eight others are under negotiation.
Some - such as Auckland Central - should be unpalatable to Act, which will want candidates in as many seats as possible to increase its party vote.
National's contra deal shows two things: it emphasises Act's weak position now and shows National is thinking in the longer term.
In the last election, the only "price" National put on the Epsom seat was the expectation of support in a coalition government. Requesting Act not to stand candidates at all in some seats is a big step on from the usual practice of asking it to nudge the electorate vote towards National.
It effectively asks Act - a party for which every single party vote is important - to forgo chances to build that.
The small parties rely on local candidates to build their party vote in the seats, and any seat where National is reasonably strong will also prove good hunting ground for Act. That National is in a position to make such a demand, and that Act is willing to agree, indicates Act does not wield as much influence as it once did.
Don Brash may have promised his leadership would result in a poll boost, but it is yet to happen and National clearly doesn't expect it to. It does not bode well for post-election coalition talks for Act.
The second notable aspect of the deal is that it shows National's eye is not completely on 2011 - it is effectively already fighting the 2014 election. National's popularity is such that it doesn't really need the help this election. But come 2014, National is unlikely to be as popular. Some of its more controversial reforms will have kicked in and more will be on the table; it's likely to be up against a new leader in Labour and voters may be more sceptical of John Key.
In a reversal of the usual adage, National is making use of its jam today so that it might at least have butter in 2014. For although it's the party vote that determines how many MPs a party has, there is a certain moral authority and higher profile attached to the electorate seats that helps maximise that party vote.
There's scope for similar deals on the left. In 2008, Labour could have kept at least two of its seats and won a third - Auckland Central, West Coast-Tasman and Ohariu - if a portion of the Green candidates' votes had instead gone to Labour's candidate.
Despite its derision of the Epsom deal, Labour would dearly love to cut some of its own. A retaliatory deal to help Andrew Little in New Plymouth, for example, would be nice, especially given the Greens didn't stand a candidate there in the last election but are this time round.
The same goes for Waimakariri and Rimutaka, where NZ First's Ron Mark caused a sizeable vote split in 2008 from which National could benefit, now that Mark isn't standing.
Alas, Labour do not have the luxury of being able to do so.
While the Greens usually leave about five or six seats uncontested, those seats are largely safe National seats where the cost of standing a candidate would outweigh the potential to reap party votes.
The Green Party is far too reliant on the party vote to risk sacrificing any of it by standing down in some of the marginal seats, in which it polls relatively well. The most it does to help Labour is making it clear - with varying degrees of effectiveness - that Green candidates are only there to reap party votes.
Another hallmark of this election is that the usual quiet hints have increased to loudhailer volume. In the past it wasn't done to openly admit you were working the system, even though most parties did it to some extent.
In 2008, National's headnod came simply by standing the previously defeated Richard Worth in the seat again. This time, National has openly said it will campaign only for the party vote in the two seats, not for the seats themselves. The reason could be to prevent mixed messages - to make it obvious in Epsom, say, that a new candidate does not necessarily mean a change in what is expected.
The other explanation is that such deals are now so self-evident there's no point being subtle about it. Voters can see such deals a mile away and don't seem to mind, provided they can see a good reason for them.
They appear to have accepted such are the realities of MMP - and can in fact figure out the advantages of tactical voting themselves without any nod from on high. It was, after all, the Epsom voters themselves - not National, which initially fought to hold the seat - who agreed that Rodney Hide's argument in 2005 was convincing enough to vote him in.
There's some consolation for Epsom. In return for its obedience, there's the expectation National's candidate Paul Goldsmith gets a high list placing so that there is an Epsom-based National MP.
If not, many will no doubt consider John Banks - a long-serving National Party member who still unconsciously refers to Act as "them" - is almost as good.