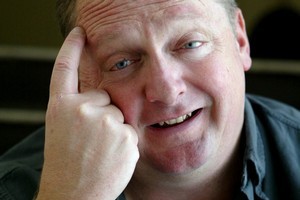 PHONE: "Hello, and welcome to the Phone-rage Helpline, the brand new way to fight the stress caused by an increasingly impersonal world where automated voices, on the end of a phone-line alienate actual human beings from the world in which we are attempting to live. To help our highly trained phone-rage counsellors help you better, please select which of the following nine options best describes your current state of mind: 1 - mildly irked; 2 - increasingly vexed; 3 - frustrated and seething; 4 - a sense of despair; 5 - existential ennui; 6 - stirrings of fury; 7 - utter rage; 8 - a desire to do self-harm; 9 - a homicidal urge to reach down the phone-line and rip the disembodied voice on the other end of the line from the bowels of the computer that spawned it."
Having forgotten most of the options, I take a punt and opt for number 6.
PHONE: "Please hold while we transfer you to our 'stirrings of fury' section. Your pain is important to us so please be assured you will be soothed as soon as possible."
And a Coldplay song assails me from the other end of the line. I immediately feel like I should have pushed 7. Eventually there is a click and then the phone rings twice before the computer-generated voice kicks in again.
PHONE: "To best help our highly trained rage counsellors help you with your stirrings of fury, press 1 if the cause of your phone-rage is of a domestic nature; press 2 if as a result of attempted inter-action with a faceless corporate entity; or 3 if this is simply a cumulative stirring of fury as a result of the hours and hours of your life wasted on hold."
I am tempted to push 3 but as my stirring of fury stems from bouncing around three companies, trying to have the gas reconnected to our house, I press 2.
PHONE: "Please hold."
No, not Coldplay again! Anything but Coldplay! But there it is, Coldplay again. I stab randomly at the buttons in the hope an actual live human will speak to me, but many minutes of Coldplay at a volume slightly too high, so that it becomes distorted (which is like normal Coldplay only worse), follow before my computerised friend is back again ...
PHONE: "Here at the Phone-rage Helpline every cry for help is equal, but due to the uncaring, impersonal nature of the 21st century we are experiencing higher-than-usual demand. Please continue to hold and we will soothe you as soon as possible."
As I cry out a word far too rude to repeat here, the on-hold music floods my ear. Thankfully the tune has finished. Unfortunately it has been replaced by a Snow Patrol song, so I now feel like I'm trapped in an episode of Grey's Anatomy. Eventually the music stops and the computer-generated voice is back on the line ...
PHONE: "So our highly-trained anger-management counsellors may better understand your specific case, please press the hash key if you have experienced any or all of the following during recent telephonic interactions: elevated blood-pressure; a feeling of despondency and a desire to simply give up on life; banging your head against a wall or a handy piece of furniture; the throwing of the telephone hand-set across the room; uncontrollable utterances akin to the onset of Tourette Syndrome."
I press the hash key repeatedly and with great purpose. Even after the on-hold music has started up again, I keep pushing it, because it makes me feel better. Snow Patrol have been replaced by James Blunt. I wonder what great wrong I committed in a past life to deserve this.
PHONE: "Thank you for holding. Connecting you now to the next available counsellor. Please note that this call may be recorded for staff training purposes or as evidence in any potential criminal action."
HUMAN VOICE: "Phone-rage Helpline, how can we help?" It is an actual human voice. A real person. I try to speak but all that emerges is a strange guttural sound, something primal and inhuman. The power of speech has left me."
HUMAN VOICE: "I'm sorry sir, but you sound like you need our 'homicidal urge to reach down the phone line and rip the disembodied voice on the other end of the line from the bowels of the computer that spawned it' counselling department. Please hold."
And, to the sound of Blunt, I hurl the phone at the nearest wall. The hash key bounces off and hits me in the head.