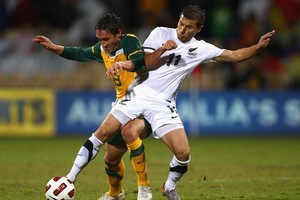 If nothing else, the All Whites' back-to-back 3-0 losses to Mexico and Australia showed that with anything but the very best players the national side will struggle against half-decent opposition.
While the Mexicans were close to full strength and dealt to the All Whites accordingly, the Socceroos were a shadow of what coach Holger Osieck would consider a first-choice line-up and definitely weaker than the side he will put out against Serbia tonight in Melbourne.
Yet they too were still three goals better than the makeshift All Whites.
Both Osieck and All Whites coach Ricki Herbert used the match to look at what could be tagged "emerging talent". Osieck would be happier with what he saw but to be fair to Herbert this was hardly the stage on which players were, for a variety of reasons, going to put their hands up.
A horrendous travel schedule - and one must question the wisdom of subjecting international sporting stars to such demands especially given many were called in out of season or with minimal pre-season training to prepare - was not conducive to being ready for a demanding transtasman clash.
Herbert has said international matches must be taken "more often than not" if he is to prepare fully. Now he admits that had he foreseen the extent of the injury toll he would not have taken the matches.
But, just as quickly, he saw the benefits of bringing players into the environment and being able to assess for himself.
Given the wide spread of the game these days, Herbert must rely on what he is told rather than what he has seen in the first instance. Only by getting the players together for games like these does he get the time for hands-on work and assessment.
He admits he can tick some boxes and put crosses in others after the two matches but in general he would have learned little. He knows he will always get 110 per cent from players like Ben Sigmund, he might unearth a bolter (like Jeremy Brockie in a defensive role) and confirm that, yes, Kosta Barbarouses and Marco Rojas are definitely gems for the future.
While the All Whites were undone defensively in conceding three goals in Adelaide, of more concern was their failure to even seriously threaten to score in 180 minutes of soccer. To maintain the momentum, and a year from now they will be in an Oceania battle for a 2013 Confederations Cup spot, the All Whites need to win.
Winning is about scoring goals and that a much-touted attack built around the likes of Shane Smeltz, Chris Killen, Chris Wood and Barbarouses could not muster one really clear scoring chance remains a worry.