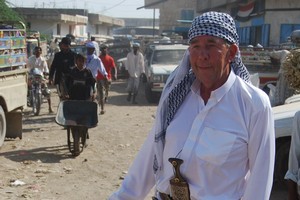 Paul Holmes in Yemen for TV One's Intrepid Journeys. Photo / Supplied
There are three Arab leaders at the moment who can be seen clearly for the power- hungry "power at all costs" political thugs of the world that they are.
Take Gaddafi. You look at that face and you know he is stark raving, deluded, barking mad.
You look at Bashir Assad in Syria and you know you're looking at a weedy, reedy little son of a powerful father who without the father would be a seedy, weedy nobody.
His regime is proving to be monstrously cruel to its people. Hard to believe Bashir is a London-trained ophthalmologist.
I suppose that fact sounds so incongruous because we associate medicine and doctors with the doing of good.
First, do no harm. I don't know why we necessarily do. Dr Mengele at Auschwitz, the Angel of Death, a qualified medical man, was one of the creepiest freaks in history.
Another of these Arab scumbags is the Yemeni President, Ali Abdullah Saleh.
Everyone knows he will go down bigtime. The longer he holds on to absolute power, the bigger he will go down.
So now my beloved Yemen is on the verge of going up in flames, on the verge of a cataclysmic civil war. I say "my beloved" because I had such an extraordinary time there on an Intrepid Journey a few years back.
Not a lot of people actually know where Yemen is. I don't think I really did until I checked a map before we went there. It is essentially the bottom left portion of the Arabian Peninsula.
And what I certainly didn't realise about the entire Arabian Peninsula is that a massive mountain range runs north to south down its western side, sloping down eventually to the Red Sea.
In fact, the Saudis move their capital up to the mountains, to Taif, during the ferocious Arabian summers. The Yemeni capital Sana'a sits in this same mountain range.
The thing about Yemen is the architecture. There is nothing like it in the world. They seem to have engineering in their genes. They built skyscrapers when no one was doing it.
Osama Bin Laden's father, who got rich building roads in Saudi Arabia, was Yemeni. He got so rich he rebuilt the mosque at Mecca with his own money.
Old Man bin Laden came from one of the most spectacular parts of the world I have ever seen, the Wadi Hadromaut. It is probably as vast and as breathtaking as the Grand Canyon.
And all through this great and ancient valley are villages perched on high, impossible sites, above steep cliffs, and you look at them and marvel because they have been there hundreds and hundreds of years.
How in God's name did they do that, you find yourself asking time and again, round every corner.
It's the same through the entire country, especially in that great mountain range, villages with slim, square buildings six or seven storeys on the most unreachable ridges and peaks.
And, of course, that was the point. Defensively, they are brilliantly sited.
The truth is, neither the Turks - of whom there are still some 10,000 in Yemen - nor the British ever really conquered anywhere but the Yemeni coast.
You couldn't get near those mountain villages. The Yemenis simply rolled great rocks down on you.
And it was in Aden on the coast that al-Qaeda made itself really known to the United States when, in October 2000, in one of the cleverest, most dazzling stunts in modern warfare, a small group of lads in a simple runabout with a thousand pounds of explosives on board sailed right up to the USS Cole while the ship refuelled.
The Cole's hull was designed to withstand the pressure of thousands of pounds of explosive power per square inch. Its radar technology could see anything in the sky within a 200 mile radius. The Cole was armed to the teeth.
It was perfectly designed to fight the Soviet Union. It was no match for a few Arab lads in a runabout. That was terror, all right.
But as we drove around Yemen on that journey, apart from the brilliance of the scenery, the sun setting blood-orange over the great terraced mountains, the historic Red Sea, the Wadi Hadromaut, there were three ugly things you saw everywhere.
Firstly, there was the poverty and the backwardness. Secondly, there were the plastic bags thrown down everywhere, infesting the entire country. You have never seen the like of it.
And thirdly, there was the Kalashnikov. Yemen will go off like a bomb.
And there were also the ubiquitous roadside hoardings with their portraits of the smiling, beneficent leader, Ali Abdullah Saleh.
And you looked at the poverty beneath the posters, the stalled development, the littering and the obvious lack of education of the people and you knew he should have been shot years ago.
I had no political sense of Yemen at all. I always thought that strange. Politics never came up, as if politics didn't exist there.
Once, though, I was invited into a meeting of men who were extremely and pleasantly interested in us and they spoke about their country and matters to do with their country in a way that I can only describe as elliptical.
I wondered that day if stuff was going on, deep beneath the surface.
* Listen to Paul Holmes on NewstalkZB from 9am to noon today.