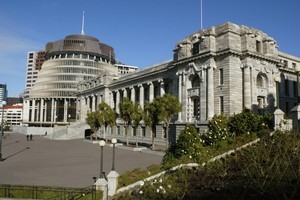 This week, the Government got back to work in earnest, borrowing about $950 million mostly from foreign banks and pension funds.
It has averaged $300m a week for the past six months and that is expected to continue like this for another year or two.
Buried amid the Government's soothing talk about weaker growth and a slightly bigger deficit in the short term was an announcement about a $1 billion increase in government borrowing in the current financial year to $13.5b. That works out at $270m a week for 50 weeks.
Even in the week before Christmas, the New Zealand Debt Management Office (NZDMO) announced it had sold $250m worth of seven- and 10-year bonds with interest rates of 6 per cent. Reserve Bank figures show that foreign holdings of these bonds have risen from $14.4b to $24.5b over the past two years, and that foreign interests now hold about 65 per cent of all government bonds in private hands.
These weekly announcements are the sound of New Zealand sucking in foreign debt to pay for a structural budget deficit. The inevitable result of this is a blowing-out of interest payments overseas just as our baby boomers retire at great extra expense.
The Government expects to issue $59.5b worth of new bonds over the next five years. Given about two-thirds are likely to be sold to foreign investors, extra interest payments out of about $2.4b a year for the next 10 years will add to our current account deficit.
It means we all have to work a little harder just to pay our way in the world or we have to borrow that much more to keep paying the bill.
This is all doable while interest rates stay low. But what if New Zealand's credit rating is downgraded, as is now being considered by Standard & Poor's?
A much safer and cheaper way for the Government to borrow is from small local savers, rather than big foreign ones. Why doesn't the Government make a serious effort to borrow that $40 billion from mums and dads in New Zealand?
It would make our current account deficit much healthier over the long term and provide a safer and higher-returning investment option for investors burned badly by stock markets and finance companies.
As it turns out, the NZDMO does offer "Kiwibonds" but only for six-month to two-year terms at no more than 3.75 per cent. It pays foreign savers 6 per cent for seven- and 10-year bonds.
The Government wants the certainty of borrowing long term but mums and dads want much shorter terms. If only the two could be brought together.
There are plenty of term deposits for the Government to target if it is serious. Household deposits and Portfolio Investment Entities in banks totalled $100.8b at the end of November, up from $92.3b two years earlier. The growth of those savings was almost exactly the same as the extra amount borrowed from foreign savers over the same period.
This is a wider opportunity than for the central Government. Local governments will be borrowing heavily for infrastructure and will face the same problem.
Our governments need to get together with mums and dads to solve this problem and reduce the nation's future risks.