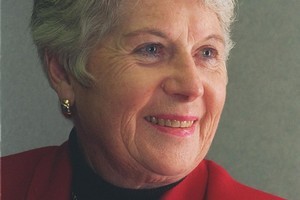 A few scenes from a year in the life of this page. A central Auckland hotel room swathed in white sheets and inhabited by a chorus of very intense people, awaiting the entrance of a guru.
A Ponsonby townhouse where a former mayor and Governor-General said, to a former minister of Parliament, who happens to be her daughter, "oh, rubbish. Piss off".
An elegant Auckland restaurant where, over duck confit and a pinot gris from Alsace, a transsexual playwright wearing very tight white trousers and colourful beads flashed his breast across the table.
The stairs in an elegant Wellington restaurant where TV3's political editor did an impersonation of himself, in the unlikely event that he should ever have had a few, posing with a bottle of wine.
A cafe in Grey Lynn with a right-wing blogger who talked, sadly, I thought - although of course he couldn't have felt the same way - about how he lacks empathy.
A cafe in Ponsonby with one of our greatest actors and directors who talked about being so broke he proposed, to a publisher, a calendar of his photographs of gannets. A grand hotel lobby with a former All Black of legendary toughness, who giggled.
A hotel room with a rock chick who shouted "I've been f***ing downgraded!", and talked about what she had been in a former life.
I went to interview Dame Cath Tizard because she had written her memoir.
Her daughter, Judith, turned up. Her mother said, "oh, rubbish, piss off" and "who brought you? Who said you could come around?" Her daughter executed a well-practised curtsy and, briefly, left the room.
Dame Cath said: "My sex life has been so bloody respectable. Most of the time. I haven't had a wild career, I promise you." This was in response to a question about prurient interest. "Only from people like you."
Oh well, then, I thought, I might as well ask about those rumours: that both mother and daughter had had a fling with the former PM, Helen Clark. Dame Cath said they made her laugh, and laughed, loudly. Judith said, "well, they piss me off" and told me about another rumour (which I'd never heard) about her having had an affair with Lianne Dalziel.
What very good, if exhausting, fun. Dame Cath later emailed to assure me that "Judith's and my interactions were nothing put on for the occasion - just the usual family banter and teasing!" Goodness. I wondered, faintly, what it would be like to be in a room containing more than two female Tizards.
We hadn't had one of her famous gins ("I thought about a gin," she emailed, "but it was a bit early in the day"); but I could have done with one. She said I should come over when there were four Tizard females plus two granddaughters in the house. That would be an event requiring an entire bottle of gin.
Some chap emailed to demand I make a public apology to Sir Colin Meads for noting that the great Pinetree is a giggler. Well, he is. And what an odd thing to get offended by - but perhaps it shows that some people only want to read what they think they already know about those who carry the burden of being icons.
He is a more complicated man than he generally lets on. It must get to be a bit of a bore being a professional icon. He regards his public profile as "a gimmick". He said he can put on "the bullshit"; it's what people expect. He meant the old rugby stories and jokes. He said, more sombrely, that he'd never stopped regretting his lack of education (he left school at 14) which has left him, many times over the years, feeling "lost". He regards himself as having "failed", somehow, because of that lack of learning and because he's never earned enough money as a farmer.
I read him what I thought was a funny line, from a sports writer: that his were the best legs since Betty Grable's. This was "stupid". It was funny. "It's not funny." Why wasn't it? "Well, Betty Grable couldn't have played rugby if she was paid to, with those legs of hers." That was funny.
In a hotel room a young lady with rather good legs stood on a chair peering at herself in a mirror. She'd thrown her open suitcase on the floor, in front of the door, so you had to step over its contents to get inside the room. "Sorry about the knickers," said Gin Wigmore to the photographer.
She would turn up at the New Zealand Music Awards later in the week wearing what was widely believed to be her underwear. And why not? She's 24 and gorgeous, clever and stroppy.
She whacked me on the arm for tsking over the state of that suitcase.
"You're lucky you got invited into my room," she said, pouting. She does a very good mocking impersonation of a spoiled rock chick. She's a delight, in her peculiarly loopy way. She really does believe she was a cowboy in a former life.
Ian Mune wrote his memoir. It is, like him, funny, a bit grumpy, complex and a bit mad, at moments.
He had proposed to a publisher a calendar of his photographs of gannets, of which he has taken 3500. He had no money and was desperate to "make a buck from something, anything". Still, a calendar of gannets! He'll be 70 next year. I hated to think of him struggling for money but he says he's all right now, for the moment.
I said it wasn't right that he had such struggles with money - meaning that given what he's given us, he should at least be comfortable. He thought I meant he should have been sensible with money. No, but he did invest in bloody goats! He would, though, wouldn't he?
And he's all right too, mostly, temperamentally speaking. He spoke frankly about going round the twist and smashing things up. He was drunk. "Of course. I was an arsehole." He couldn't get any work and his mother had died and he was unhappy and being awful to his wife. He's happier now. He did shout at me for saying he can be bad-tempered. "Have I been awful to you?"
He said he suspects his book is for "people who come up and say hello. They regard me as a piece of the landscape, a piece of their landscape." He is too. Even if a mad bag lady in Gisborne asked if he was "that Ian Munge". He said he was often mistaken for Ian Munge, but no, he wasn't. She said, "that's all right then. Because he's a useless bugger, that Ian Munge." I wouldn't know. I do know that that Ian Mune is a terrific bugger, even when he's shouting, just a bit.
There was a bit of swearing at the nice restaurant with the man in the tight white trousers. Richard O'Brien, the creator of the Rocky Horror Picture Show, after an amiable hour decided I might be setting him up to "look like a c***". I don't know why. He cheered up as quickly as he flared up. He was an intriguing, occasionally volatile, interview. He decided to flash one of his breasts. I'll never know why. This seemed to require a response. All I could manage was a stuttered question about whether he'd had a boob job. He said I had obviously led a very sheltered life and that all men had boobs. He said, and this was sad, I thought, that "I'd love to have been loved. I've never been loved. I've never been in love." That is a shame because he is, actually, lovely.
A text arrived from Cameron Slater - the firebrand blogger who could start a fight in an empty brown paper bag, and often does, and who has the deadest eyes I've ever seen. He said I'd misquoted him. He had called somebody (who I didn't name, for obvious reasons) a "corpse fiddler". Or so I had reported. His text message read: "I said corpse cuddler. I always use alliteration." This is the one occasion on which I wish I had misquoted somebody: The correction would have been a cracker. Alas, I was right - on quite possibly the only occasion on which Slater had to admit, and with good humour, that he was wrong.
I had a drink with Duncan Garner in Wellington. That requires a correction: I had many drinks with Duncan Garner, but not quite as many as he had. His boss, Mark Jennings, TV3's news chief, who knows my boss, sent a couple of text messages. One was about the prurient line of questioning (hardly: I asked if he'd played up a bit and he said "probably".) And another saying "he says you had a lot to drink". What a squealer. I did ask about his telly persona: swaggering, macho tough guy (which is not quite how I put it after a bit to drink). He responded, outraged, with a swaggering, macho, tough guy denial.
He did a pretty good impersonation of the PM: "I'm ambitious for New Zealand," in response to a question about how ambitious Duncan Garner is. He is hugely convivial. "Change your flight," he shouted. He'd shout the air fare: "I'll pay!" I paid later, with a sore head, but it was worth it.
An audience with a guru, Sri Sri Ravi Shankar, in the hotel room guru-fied with white sheets resulted in the most emails of the year, many of them from India.
I would have answered but, having declined the offer of a free meditation class run by his Art Of Living Foundation, I was a bit stressed by the experience. You don't get an interview with the guru. You get to ask some questions.
A sample: Who are his close friends? "Everyone is my friend." But does he have close personal friends? "You know, everyone I speak to goes close to my heart." Except me, perhaps.
So many questions; so little time. So many scenes in hotels, houses, cafes and offices; so little room here on the last back page of the year. My thanks to everyone who was kind enough to invite me into their rooms to ask a few questions.
- The Michele Hewitson Interview returns in a month.