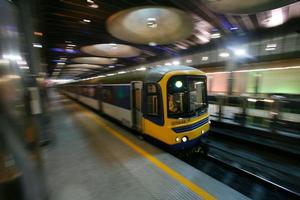 One of the biggest concerns is a transport body that will control more than $600 million a year of ratepayers' money. Photo / Chris Skelton
You can hardly blame the two declared contenders for the Supercity mayoralty - not to mention other local body politicians, incumbent and aspirant - for being suspicious about Government plans to have unelected boards running most services when the new city comes into being in November.
The Beehive, in particular Local Government Minister Rodney Hide, has a bad track record of consultation in the design of the single city.
Despite the fact that Hide and the party he leads owe their political existence to the voters of an Auckland electorate, he has taken to the task with a relish plainly driven by the ideological agenda that is so dear to his heart.
He threatened to resign if the Prime Minister acceded to what was plainly a strong call for Maori seats; ignored concerns about the powerlessness of local boards as proposed; and dismissed objections that the at-large election of the mayor would favour candidates with more money than acumen.
Now, with less than eight months to go before the new city council will be constituted, there are concerns that as much as 90 per cent of services in the Supercity will be run by seven Government-appointed boards. The biggest concerns are over an agency that will oversee development of the waterfront from Mechanics Bay to the Harbour Bridge and a transport body that will control more than $600 million a year of ratepayers' money.
The suggestion that politicians in Wellington would appoint people to control waterfront development is particularly inflammatory. This Government, like the last one, has tried to bulldoze Aucklanders into ill-thought-out waterfront development - a megastadium and an expensive and inadequate shelter for partying rugby fans. But an unelected mega-board looking after transport is even more chilling: if one thing unites Aucklanders it is the lament about how hard it is to get around the place, whether by public or private transport. Neither area is one that any sane Aucklander would want under the control of someone beyond the reach of electoral accountability. Ditto water, council investments, economic development, regional facilities and the city's property holdings.
There is nothing yet in the proposed organisational set-up that says the council - and by extension the voter - will not be able to exercise control over these boards. But there is nothing explicitly to say that they will, either. Hide and his Cabinet colleague, Transport Minister Steven Joyce, have been quick to make placatory noises: in a jointly written op-ed piece in the Herald, they said that "transparency and accountability is [sic] a key feature" of the plan. But if the lines of accountability are not plainly laid down, that is so much cant. These boards are called "council-controlled organisations" (or CCOs), but there is no provision for the "council" to exercise any "control" over the "organisations". The ministers seek to respond by saying "Trust us: we know what we're doing". We say "yeah right".
It is too late to mount a campaign against the corporatisation of local government that is implicit in the new arrangements. That horse has bolted and what Prime Minister John Key calls "the business model" is now local government orthodoxy. Corporatisation, which was going to deliver efficiencies unknown to the cardigan-wearing council and board officers of old has given us spiralling water, power and rates bills and everyone in Wellington has been very careful not to say that rates will go down in the super-sleek Supercity.
Likewise it would be foolish to find fault with the idea that the Government will appoint the first boards: the new council needs to have them in place from day one and getting the existing councils to agree on the CCO membership would be like herding cats. But it is another matter to propose boards that can conduct business without any obligation to listen to politicians or consult communities.
The Prime Minister has hinted that there will be changes to make the CCOs more accountable but has ruled out anything major. That is not good enough. By their very nature, CCOs are designed to take control away from politicians and the public in the interests of greater speed and efficiency.
Either the council-controlled organisations are organisations controlled by the council or they are not. If they are not, the PM and Hide should say so - and should say why. As matters stand, the CCO model is anathema to the idea of democracy and is not what anyone in the region signed up for. Wellington must think again.