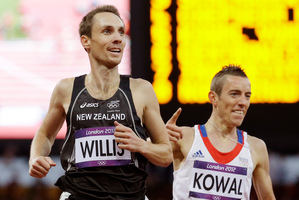 From his position in the holding pen, Nick Willis yesterday watched the first two heats of the 1500m unfold.
He saw two of the field's most accomplished runners, defending champion Asbel Kiprop in heat one, and Qatar's Hamza Driouch in the latter heat, struggle to wriggle themselves out of awkward spots on the back straight.
Whatever race plan he had formulated, he now knew he had to change.
"I had to make sure I could get myself out by 600m to go and, if the opportunity presented itself, to be the one to box the Kenyan competitor [Nixon Chepseda] in."
Willis and Chepseda, a three-time Diamond League meeting winner in 2011, fought to the bell line and, when the Lower Hutt runner dragged a few other pretenders along with him, the Kenyan found himself facing his worst scenario.
"He got caught in a box down the back straight. He tried to get out, stumbled and what do we know, he didn't advance. That's one more guy not in the final who was listed as one of my main competitors."
Yes, Willis might find himself outrun in these Olympic championships but the silver medallist from four years ago is unlikely to get out-thought.
The 29-year-old Ron Warhurst-coached athlete was in cracking good form yesterday and that didn't confine itself to the track. Trotting through the mixed zone - the place where athletes must pass through post-race while media try to coax pearls out of exhausted minds - Willis put on his best primary school teacher voice and urged all New Zealand media to gather in one place so he needed only to deliver his message once.
It was a message that was full of positivity but managed to stop just short of cockiness.
"An hour before I came to the track Amine Laalou tested positive, so that's another guy out of the race, plus the guy from Djibouti [Ayanleh Souleiman], we found out yesterday, has not entered. That's three sub-3m 31s guys not in the picture now.
"There's still going to be 12 great guys in the final but everything seems to be lining up. I've just got to keep ticking the boxes," Willis said.
This is indeed big news. Laalou had tested positive for the banned substance furosemide at Monaco last month, the same meeting where Willis set a season's best and national record of 3m 30.35s when finishing third. Laalou finished fourth in Monaco and was the sixth fastest man at the distance this year.
With only two Kenyan athletes left in the field, they face a bigger struggle to dictate tactics in the final.
There is the small matter of tomorrow morning's semifinal to get through - "maybe I'm a little over-confident," Willis noted at one point - before thoughts can turn to Wednesday morning and the possibility of the Michigan-based runner adding to his medal from Beijing.
"The idea is to use the first round to re-awaken your legs, so that final little snap wasn't there," Willis said of his form.
"Hopefully I'll feel a little snappier in the semi, but you can't complain about feeling a little dull and still winning a race."