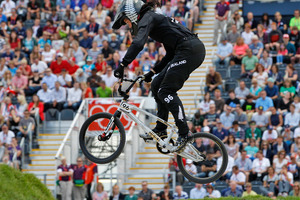 Sarah Walker in action during the Olympic Games cycling BMX time trials at Olympic Park. Photo / Mark Mitchell
Sarah Walker has qualified second-fastest for the women's BMX semifinals at the London Olympics.
Walker was only headed by Australian world time-trial champion Caroline Buchanan.
In the men's seeding race, Marc Willers was the fastest of the two competing Kiwis in 10th place. Kurt Pickard qualified in 16th.
Both men's and women's events start with a seeding phase to ensure that the fastest riders don't meet before the final. The women advance straight to the semifinals while the men's tournament features quarterfinals
- HERALD ONLINE