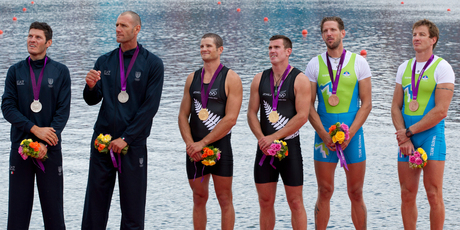 Seemingly dwarfed among giants, Olympic heroes Nathan Cohen and Joseph Sullivan used a unique and devastating combination to turn the tables on their lankier adversaries to secure NZ's first gold medals.
Southlander Cohen, 26, and Picton 25-year-old Sullivan - measuring 1.81m and 1.82m respectively - have proven an Olympic odd couple in a sport where the average oarsman stands at around 1.88m.
But the duo harnessed their height to their advantage, drawing on a lethal stroke rate and powerhouse endurance to cross the line in 6m 31.67s at Eton Dorney.
The race saw the crew creep from fifth in the early stages to fourth at the 1500m mark, before opening up and powering past Italians Romano Battisti and Alessio Sartori, who trailed 1.13s behind at the finish line.
"They're unique - there's not too many other crews of their stature who are able to go as fast as them," former Olympian and national junior selector Barrie Mabbott said.
"Most rowing crews make their first 500m their fastest and start slowing down after that, but these guys were able to row the last half quicker than the first.
It's pretty rare to do that."
The pair could barrel down the field at far higher rates than the 35-36 strokes per minute normally seen in double scull racing.
"That's because they have their oars in the water for a lesser period of time than the longer guys," Mabbott said.
"It does also give a real ability to accelerate more effectively than a big guy, and that's why their sprint is so devastating."
Waikato rowing coach Ian Wright praised their mental and physical capacity.
"They have this power band like nobody else. Most other rowers wouldn't be able to hold a sprint for 700m.
"Coming up to the end, the other two crews were going backward, they were done on the sprint, yet our guys have that ability to punch through the lactic acid."
They were not only mentally tougher than the rest, but couldn't be beaten pound-for-pound, he said.
Sullivan's former national U23 manager, former Olympian Roger White-Parsons, said their full-time training regime had given them an "unbelievable base" to draw on.
"They're especially effective in getting acceleration on the blade and, being quite wiry, solid, shorter people, they can be more brutal with the way they apply power."
Gold medallist Rob Waddell, who has previously rowed with Cohen, said the pair were well matched.
"Because they are a similar size, they do move well together. But the most important thing, to me, was that mental toughness.
"It was outstanding what they did, to row from behind, to keep that composure, to place themselves well, and to push their bodies when every part of them was screaming out and telling them not to ... I just find that amazing."
By Jamie Morton @Jamienzherald

Email

Jamie