Many of the recipes and techniques taught in school cooking classes are based around cakes, muffins and desserts with less than 50 per cent of kids being taught how to plan, prepare and cook a nutritious main meal, according to a new study.
Almost 120 intermediate schools across the country took part in the study, carried out by Massey University in conjunction with Vegetables.co.nz and the Heart Foundation, to see how Year 7 and 8 students are being taught cooking skills under the current curriculum.
The findings show food preparation needs an overhaul say researchers who found just 13 per cent of teachers identify planning and preparing a complete, healthy meal as a key learning objective.
Heart Foundation food and nutrition manager Dave Monro said while many schools are doing a good job of teaching cooking, he is concerned about the inconsistencies in what is taught, how it is taught and how much time is devoted to it.
"Only 10 per cent of teachers surveyed listed the fruit and vegetable content of a recipe as a factor that influenced their recipe choice.
"With one out of every three Kiwi kids now overweight or obese it is more important than ever to equip them with skills that will help set them up for a healthier future."
Only 85 per cent of Year 7 and 8 students were taught theory-based nutrition and the most common messages were about food safety, hygiene and food groups. Very few teachers discussed sugar and fat levels with their students.
Monro said the findings indicate that there are opportunities to better support children and a healthy lifestyle, with important skills in food preparation.
"Traditionally, schools and parents were the main teachers of cooking skills, however, changes in traditional family structures have resulted in fewer opportunities for our children to develop these important life skills.
"The school curriculum is the most appropriate place to teach and develop cooking skills as it reaches all children and provides many learning opportunities across a number of subject areas."
As a result of the findings, the Heart Foundation and Vegetables.co.nz will work with other key agencies, including the Ministry of Health, Ministry of Education and the Association of Intermediate and Middle Schools to develop steps to strengthen the current curriculum.
"This will potentially include a streamlining of the cooking curriculum for better consistency, a stronger focus on preparing a main meal including plenty of vegetables and fruit, and a central pool of resources and tools to enhance some of the work that is already being done."
Deputy secretary of early learning and student achievement for the Ministry of Education, Karl Le Quesne said the Ministry was aware of the study and its recommendations which focused on the need for further guidance, rather than changes to the curriculum.
"We are working with home economics, health and physical education teachers across the country to make sure they have the resources they need to teach kids about the importance of cooking healthy meals."
Le Quesne said this also included lessons in healthy eating on a budget.
According to the curriculum, all students are expected to have had a chance to learn practical cooking skills by the end of Year 8. Le Quesne said food and nutrition was one of the seven key areas of learning taught within health and physical education - a compulsory subject from Year 1 to 10.
"Schools and kura make their own decisions about how to deliver the curriculum, in consultation with their local communities," said Le Quesne
Monro said there was a key message beyond this research for parents "that they need to do what they can from an early age to get children in the kitchen and to teach them about food and food preparation".
Nachos and popcorn top the bill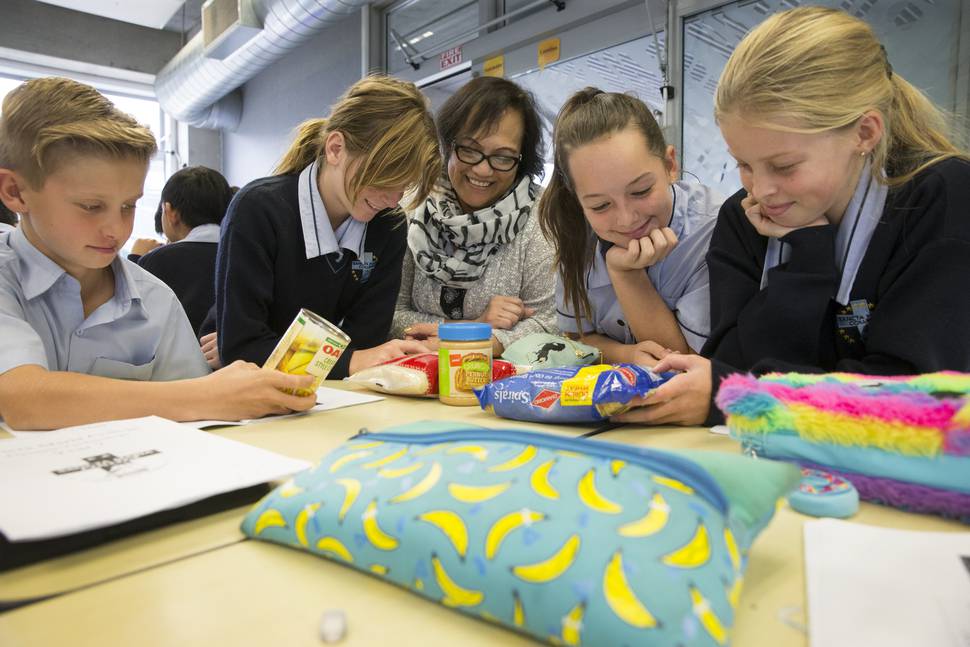 Nachos and popcorn top the popularity contest in a Year 7 food technology class at South Auckland's Sancta Maria College.
When the Herald called in this week, the class was learning the key things to look for in the ingredients data on the back of products such as potato chips and cereals. They know what is good for them.
"Last night I made some fresh salad from the garden. You go outside and get it from the garden," said Jade Coldicutt-Trotter, 11.
But ask her classmates what they love to cook best and the answers are different.
"We had to design a meal that was nutritious and stuff, and we made nachos," said Sophia Connell, also 11.
Xavier Saunders, who has just turned 12, nominated popcorn.
"In Years 7 and 8 it's all about having fun," explained the college's head of technology Prue Rehu.
She said teachers might choose meals without vegetables because of their price, preparation time and student preferences.
"At the moment fruit and vegetables are so expensive. That is one of the reasons they go with other options," she said.
She said the typical 55-minute school period encouraged teachers to plan practical lessons about one item at a time, rather than preparing a whole meal.
"If you know kids, they just want to get in the kitchen and cook something, preferably something with chocolate in it," she said.
"If the schools were able to provide like a two-hour block, that [cooking whole nutritious meals] would be much more doable. Although once the students know the basic skills you should be able to put together a meal that includes vegetables in 20 minutes.
"The problem is that the students don't even know the vegetables, let alone what to do with them."
What should my kid be able to cook?
• 5-year-old:
Many kids are involved in food preparation at learning centres. This includes making sandwiches, fruit kebabs and smoothies, putting toppings on pizzas, helping with baking, mashing egg and supervised cutting.
• 10-year-old: Require guidance and some supervision to cook a meal. Examples include, stir-fry, vegetable fritters, omelettes, meatballs and spaghetti bolognese.
• 15-year-old: May be able to do a range of easy recipes without necessarily requiring supervision. Examples include the same as a 10-year-old but also pita pockets, wraps, chicken and rice dishes with lots of vegetables.
* Source: Heart Foundation