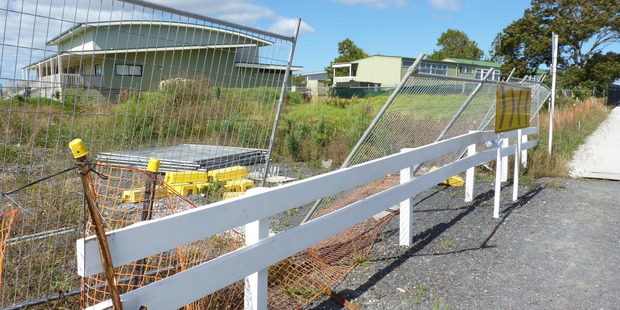 An Auckland school is standing by its decision to remove asbestos from the grounds, despite an outcry from angry parents.
The asbestos was discovered during construction for a new a drop-off zone at Hobsonville Primary School.
The school says it will take at least three weeks to remove the asbestos. Some parents have suggested the work be done in the Term 1 or 2 holidays, while others have suggested the longer break during Christmas.
IS THIS YOUR CHILD'S SCHOOL? SEND US AN EMAIL
But the school says that's too long and board chairman Lance Norman today confirmed the removal will still go ahead next week as planned.
Norman said there were four key issues that led to the decision.
One was that there is currently some soil sitting above the ground, as well as exposed underneath, that experts say needs to be removed as soon as possible.
There are only eight working days during the April school holidays in which the removal can operate, due to public holidays, and the process needs to be completed in one go.
The company said it would need at least three weeks (15 working days), likely more, to remove the almost 700 tonnes of contaminated soil.
Norman said there were also serious security concerns with people or pupils either inadvertently or out of curiosity trying to get into the cordoned-off area and hurting themselves.
Also, of the estimated 420 families of the 600 pupils at the school, only 40 have spoken out against the school's plans and just 15 turned up at a meeting last night.
Norman added that not all of the asbestos was of the fatally toxic kind, rather it was also a mix of non-harmful asbestos.
He said he was also a parent of two children at the school so he understood the concerns of other parents.
However, parent Natalie Marsh - who first spoke up about the issue - says she is shocked and has "grave concerns" that the excavation will go ahead despite parents' concerns and protestations.
"We're just not satisfied that it is safe even though they have measures in place. I'm sure the people in the respirators will be safe but I'm not confident that the kiddies running around right next to them will be or anyone else.
"What we're asking for is reasonable and allows the time needed to get certain things done. At the end of the day it's health and safety, why take a risk if it's not necessary."
Marsh said parents she had spoken to would prefer the job to be postponed until Christmas when there were no children around.
"From what we know the risk is low right now and it should stay that way ... and it's been like that since October last year and there's been no one saying don't come to school.
"They've secured the area, that's one of the requirements ... but that's only recently occurred and they only put dust cloths up [Wednesday]. The signage is only there now, too."
Marsh had also had a response from Minister for Workplace Relations and Safety Michael Woodhouse who said he had been advised by Worksafe that the removal "will not be undertaken within school hours".
Kim Shannon, Ministry of Education's head of education infrastructure service, said based on professional advice, it believed the safest option was removing the asbestos sooner rather than later.
"Health and safety is the most important consideration for us in any work of this kind. We are working closely with the board of trustees and the principal on what timing would best suit the school."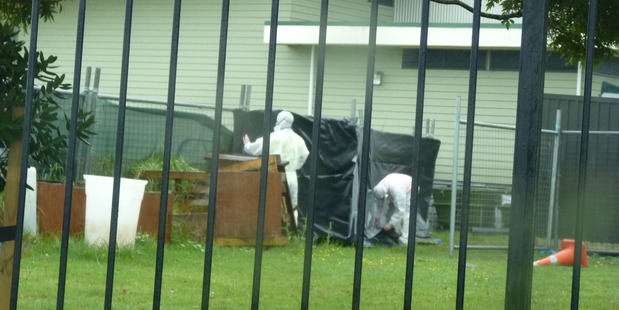 Shannon said the site had been "fully fenced off with solid fencing lined with a dust control material to isolate the area from people" and air monitors would be stationed around the site.
The school had two options - removing the asbestos immediately, which she said would remove the risk of the asbestos spreading through the air or through groundwater.
The other option was to wait until the Easter school holidays which would mean the work would still occur during the following term time.
Parent Steve Kellie, who has three boys aged 5, 8 and 9 at the school, says it's completely irresponsible to remove the asbestos while the kids are nearby.
His 8-year-old is in a classroom closest to the scene about 20 metres away.
"I'm sure they think they can do it safely and that's what they've been banging on about but the Ministry of Education guidelines state clearly that this work has to be done when the kids are not there.
"There's absolutely no merit to the hurry."
He said he and others wouldn't think twice about removing their kids from school if the work was to be done while they were in classes.
"Absolutely ... these guys are our babies. Who are you to tell us what can happen? These are our kids."
He would like to see the work done at Christmas when all of the children will be away from the area.
However, another parent, who did not want to be named, said many were happy for the work to be done during a term break.
"Make sure that all procedures that are in place are working and monitoring air filters. This is a good idea considering they don't know what they will find once they break ground.
"At the start of holidays start closest to the classrooms and by end of holidays the work that is left will be minimal and down the other end away from kids. This is what we have suggested to school."
An update on the removal in the March 14 school newsletter stated the Ministry of Education would carryout the work in accordance with the Health and Safety at Work [Asbestos Regulations 2016], alongside building contractors, Worksafe NZ and a licensed asbestos removal specialist.
Another concerned parent, Anita Gibson, said there was "no such thing as safe asbestos, or safe exposure to".
"When there are workers in full containment suits, with decontamination showers they have to go through, on the edge of our school, well it literally strikes fear into the hearts of parents and with good reason."
Ivana Mlinac also has children that attend the school.
"It is ridiculous that we should have to fight this out. The removal of asbestos is a high risk procedure and if we cannot have someone who is an expert in this field say 'your kids will be 100 per cent safe' then there is not much more to discuss. This is really a question of, who are we putting first here?"
Parent Sally Bunce felt as though the school had "kept parents in the dark" over the asbestos development.
"If the matter has suddenly become so urgent, why were we not informed there was a risk to our children in October when the school was made aware of the asbestos? Why keep that information hidden until now?"