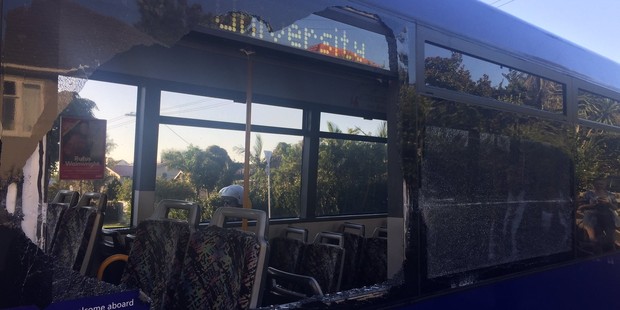 Auckland commuters were left waiting on the roadside after a bus crashed on a busy route this morning.
A bus bound for Auckland City hit a car on Sandringham Rd just after 8am, stranding passengers on the way to work and university.
No one was injured.
The crash came in the midst of "March Madness", which caused traffic chaos yesterday.
The phenomenon comes when students return to university, workers finish holidays and Auckland's traffic peaks.
Sara Jane Cairney posted a photo of the bus with a smashed window on Twitter, asking Auckland Transport for answers, claiming the driver did not communicate with passengers.
Cairney said most people managed to squeeze on another bus travelling along the popular route, but some had to wait for transport to the city.
"And 2 express buses have gone past, loads of room, and ignored us. Why hasn't anyone instructed them to stop? They see crash."
Auckland Transport spokesman Mark Hannan told the Herald a number of buses travelling along Sandringham Rd had stopped to pick up those standing on the roadside.
He said another bus had also been sent after the crash.
Hey @AklTransport my bus just crashed! Loads of people now standing on Sandringham Rd. Zero communication from driver. Zero! pic.twitter.com/6AdYPlJUGf

— Sara Jane Cairney (@SJCairney) March 1, 2017
Another Auckland commuter complained about missing his flight to Wellington this morning after an almost hour-and-a-half trip to the airport from Westgate.
Argh, thanks Auckland Traffic, missed my flight to wgn. $249 for a new ticket. @NZTAAkl 1:20 westgate to airport at 6am!

— Neil Cresswell (@NeilC_Cloud) March 1, 2017
This morning's delays follow commuter hell in the city yesterday.
Crashes on the Southwestern and Northwestern motorways forced traffic down to a crawl yesterday morning, frustrating many.
Auckland Transport has put 6500 extra spaces on buses and trains to deal with March Madness although passengers were warned they might not always get on the first service.
The move follows chaotic scenes last year that saw huge delays and stranded angry commuters.
This year there are 56 more citybound bus trips during each morning peak compared to last March, equivalent to 5 per cent more capacity and up to 34 per cent on some corridors.
Bus capacity has increased by close to 5400 spaces and timetable changes for trains from March 12 will mean 1200 more spaces are available in the morning peak.
Double-decker buses have also started services on routes between Beach Haven, Glenfield and the central city providing much-needed capacity along Onewa Rd.