A man among a group of friends who regularly went fishing is still missing following one of the "largest maritime disasters in recent times".
Charter boat the Francie was reported missing yesterday afternoon after attempting to re-enter the Kaipara Harbour in waves of up to 4m.
Three people have been rescued and the bodies of seven people recovered.
Inspector Willi Fanene said all of the men on the boat, apart from the skipper, were of Pacific Island descent.
Four of the deceased men were Tongan, one was Samoan and one was of Cook Island descent.
Of the three survivors, two were Tongan and one was of Cook Island descent.
The men were a group of friends aged between 31- and 59-years-old and liked to go fishing together.
It is understood that they chartered the boat about once a month.
Fanene said it was "with a great sense of sadness" he confirmed all the men on the boat except the skipper were of Pacific Island ethnicity.
"Not only is this a terrible tragedy for the New Zealand fishing community in general, but it is especially hard for the Pacific community."
He said police had "fantastic Pacific Island staff with cultural and language knowledge" supporting the families of the deceased.
Officers have been assigned to each family.
"I know the grief will be shared not only through the Pacific community in New Zealand and overseas but by all New Zealanders," he said.
Inspector Mark Fergus told a media conference today the search operation was in a recovery phase to find the 11th member of the group.
Fergus said the three survivors of the tragedy have been discharged from hospital and are recovering with their families.
Police have been able to take "brief statements" from the survivors but would take the opportunity to get further information from them once they had time to properly recover.
There was "any number of explanations" as to what could have happened with the boat, and hopefully speaking to the survivors could give them a better idea.
Police did not know whether the victims had worn life jackets, but there were life jackets on the boat.
"Investigators are working to establish exactly what happened and what lead to the circumstances of this terrible day," Fergus said.
"We will be assessing whether there is any culpability."
Fergus said the community had rallied around the families and friends of the dead men.
It was also "really hard" for the survivors, he said.
"They have lost friends, they've lost really close colleagues. I think it will take some time for the reality of it to set in."
A number of investigations were beginning. They included speaking to the survivors, looking at records about the vessel, what the plans were, what the weather conditions were like on the day, and whether there was any lesson to be learned.
Fergus said three survivors were spotted as the rescue teams arrived.
"Out of the 11 people on the boat, one managed to swim ashore and two others were winched to safety by rescue helicopter," he said.
Boat tried to cross bar in 4m waves
The doomed fishing charter vessel Francie tried to re-enter the Kaipara Harbour in 4m waves before it was reported missing.
The Coastguard has released new details about the vessel's last voyage.
Two bodies were found overnight, bringing the toll to seven. One person remains missing.
Three people were rescued and flown to North Shore Hospital. Two of the people had been discharged this morning, while the third person was in stable condition.
The Coastguard said the Francie lodged a bar crossing report with Coastguard Radio at 2.02pm, stating it was heading inbound across the Kaipara Bar with 11 people on-board.
The charter boat requested a 60-minute watch.
Coastguard's northern operations centre sounded the alarm at 3.02pm when the bar crossing report expired, and attempts to contact Francie via VHF marine radio and mobile were unsuccessful.
Local boats were also unable to sight a vessel on the bar.
Coastguard rescue vessel skipper Iain Guilford described the sea conditions as trying, with huge standing waves in excess of 4m.
He said this brought the Coastguard volunteers' training to the fore in challenging circumstances.
"It's never easy being part of an incident where you can't bring people home to their families. Our thoughts are with everyone involved."

Coastguard's northern operations centre coordinated the incident response over the first six hours, working with police and other emergency services.
Coastguard's air patrol and the rescue vessel Winstone Rescue from Coastguard Kaipara were immediately activated.
The search area, which was initially the Kaipara entrance and bar area, progressed south based on conditions.
Police this morning confirmed the bodies of two more people who were believed to have been onboard the fishing charter Francie were recovered overnight.
The former owner of the Francie said last night the boat should not have been operating or attempting to cross the bar in the rough conditions yesterday - reported swells of more than 1.5m and heavy winds.
Police and LandSAR recovered the body of one man about 1am on the shoreline, north of Muriwai Beach.
The body of a second man was found about an hour later, on the shoreline closer to South Head and Woodhill Forest.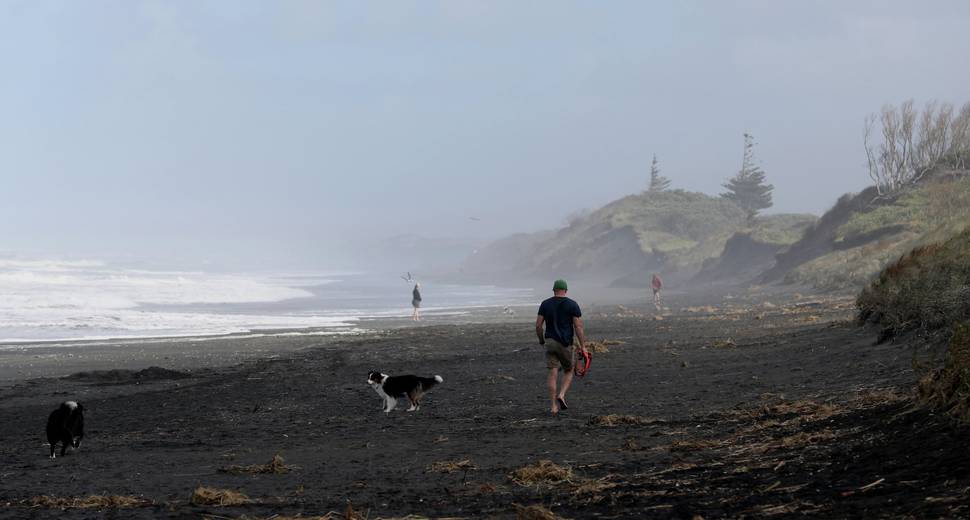 Five bodies were recovered yesterday.
Lifeguards from the Muriwai surf club have been combing the beach this morning.
"We went out at 5am and we agreed with the police that we'll do a shoreline search," said lifeguard Tim Jago, a member of the search team.
"What we wanted to do was to pick up the bodies, if they were there, before the public started going out there."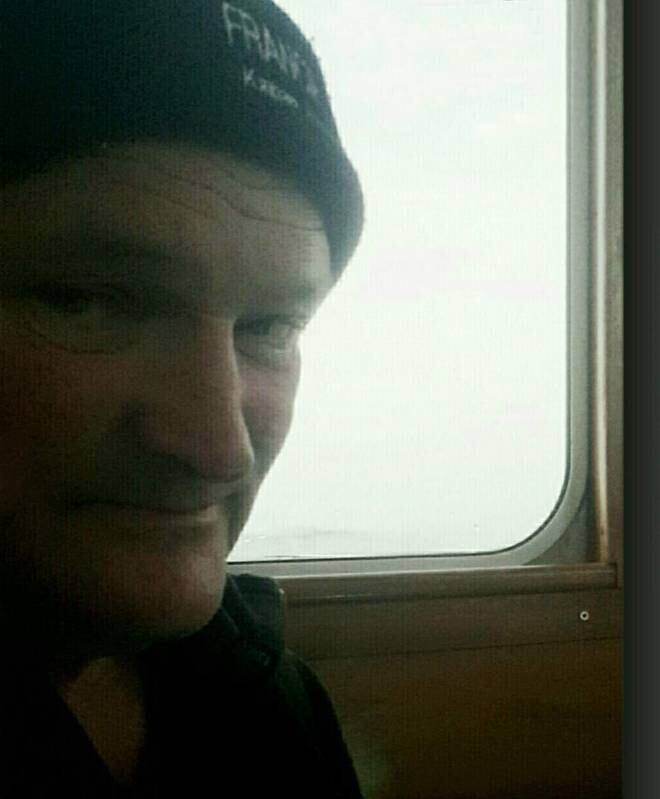 Debris from the Francie had washed up as far south as 15km north of the Muriwai surf club.
"What we've seen is a lot of the boat debris on the dunes, there's a really clear line that stretches for 20km," Jago said.
"It's drifted a long way south, we'll talk to the police now but we've got a clear idea of where to look now at the next outgoing tide."
Jago said surf conditions were "as bad you'll ever see in the harbour".
"There's huge surf right out to the horizon. The waves are a good 3ms... great walls of green water. It's horrible."
The tide will be high at 10am and the search will resume only at around 1pm. They had mapped about 15km to search again then.
Strong winds are making for choppy conditions.
MetService meteorologist April Clark said there would be gusts of wind around 50km/h, and swells of up to 2m were possible.
"A trough is moving over bringing cloud and northwesterly winds. There will be some gusts. They won't be that strong but they could affect the harbour."
Showers from the early afternoon could pick up late in the day as the wind changed to southwest.
Police said a total of seven victims had now been recovered. One person is still missing and the search is ongoing this morning.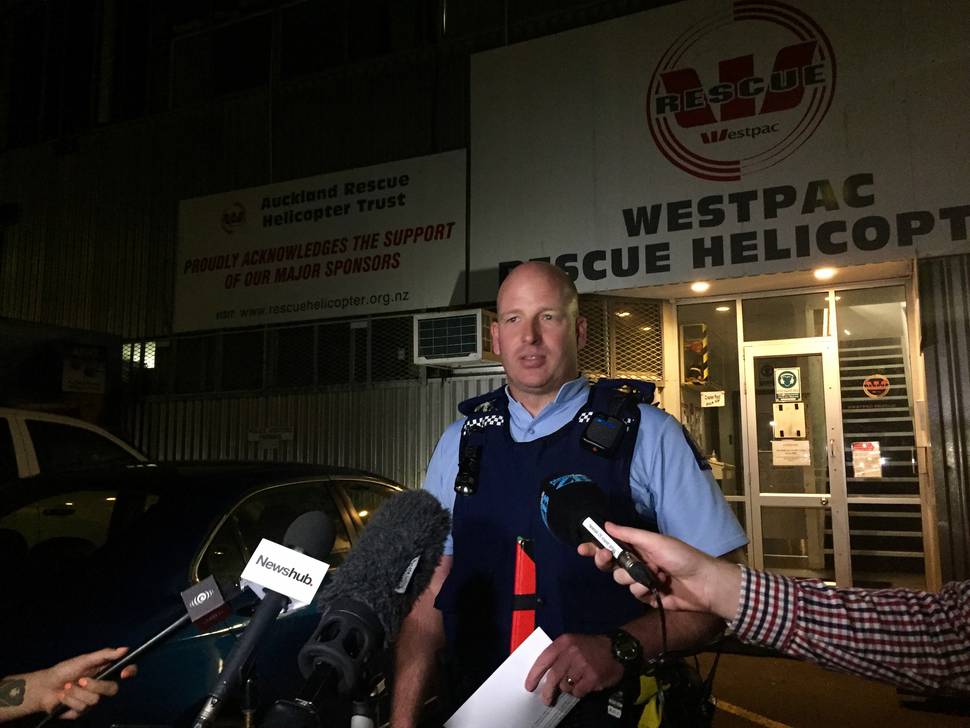 Eleven people are believed to have been on-board the vessel.
Three survivors had been rescued by the Auckland Westpac Rescue Helicopter, whose crew winched them to safety from the water.
An update on their conditions were not available at this stage, police said.
The process of formally identifying the victims and advising next of kin was underway.
Inspector Duncan Hall said yesterday that the first five bodies had been recovered from outside Kaipara Harbour.
Inquiries were being made into what caused the maritime tragedy and how those on board ended up in the water.
Police had been told there were life jackets on board, but did not yet know if they were being worn.
The Francie - which is owned and skippered by local man Bill McNatty - was reported missing near the harbour's treacherous bar crossing.
The former skipper of the Francie, Rod Bridge, last night described it as an "excellent little boat", but said it should not have been attempting to cross the bar yesterday.
"It shouldn't have been out there. It was too rough ... it's a terrible thing."
He also runs a charter business but said he had disappointed his customers by calling off yesterday's outing because of the conditions.
"I stayed home ... the wind was coming up and the swell was coming up. You wouldn't go out over the bar."
One customer had called him after hearing of the tragedy involving the Francie.
"He said, 'Thanks for making the right decision'."
Bridge owned the Francie, which is made of steel, for two or three years. He bought it about four or five years ago, when it was about eight years old.
"It was a flaming good little boat. That's why I bought it."
The Francie is a 12m charter that can carry a maximum 20 passengers and two crew.
An online booking service for the Francie states: "Enjoy a day's fishing for any of the predominant Kaipara fish species - kahawai, snapper and gurnard and in season trevally, maomao and kingfish".
Daily boat hire costs from $700 to $800.
Wayne Bollond was having a drink at Helensville's Grand Hotel as he anxiously awaited news of his old mate Bill McNatty and the others on board the Francie.
Wayne worked for McNatty for about 18 months and said he was an extremely experienced skipper who'd made that same trip countless times.
He said the Francie was a purpose-built steel charter boat that would have been fine in marginal conditions.
A typical trip would involve catching a few kahawai at Potu Bank and then going for snapper at the 'Graveyard' - a mussel bed on the inside of the bar at North Kaipara head.
"It's a very, very safe boat - I have total respect for it. I believe something else would have happened and that's when people lose their lives. That's how safe you've got to be out there and that's how safe we are. We're professionals."
He said there was a "confused sea" over the bar that required skippers to notify Coastguard prior to entering it and upon leaving it.
He described the incident as a "tragedy".
The tragedy also rocked the tight-knit community around the Kaipara Harbour, including other fishing charters. The owner of one charter, who did not want to be identified, said he knew the Francie's skipper and was just waiting to see whether or not he was one of those who had died.
"It's one of our friends so we don't want to give out too much information," he said.
"It's a bit sad to miss one of our fellow skippers - well, we don't know yet. But it's a bit sad to hear what's happened. Just [feeling] for the families."
The man said he happened to be out with a group, but had fished inside the harbour as the group did not want to go out further.
"You just got to be careful out there when you're going out to sea - not take too many risks."
He said conditions could be very rough and those heading out had to really be experienced and keep an eye on the weather.
In 2012 the Francie was involved in the rescue of a ketch cast adrift after its sails blew out and it had engine problems.
A story in the Kaipara Lifestyler quoted Bridge as saying: "Another half an hour and that would have been it - they would have foundered in heavy seas on the bar."
• Anyone who has concerns about the welfare of relatives in relation to this incident is asked to attend Helensville Police Station or to call 111 for assistance.