A woman who was almost crushed to death after a 30-metre tree fell on to cars at an Auckland park on Sunday has met up with her hero.
Dallas Hargreaves, 72, embraced Sergeant Adrian Heffernan, an off-duty police officer who rushed to her aid, as she recalled the "horrific" incident from her Titirangi home today.

Hargreaves and her son-in-law Tim Yandall were out for lunch with family at Cornwall Park when a tree uprooted and fell over, mangling four cars in the car park and trapping her inside one of them.
"I don't know how she survived," Heffernan said. "You were very lucky."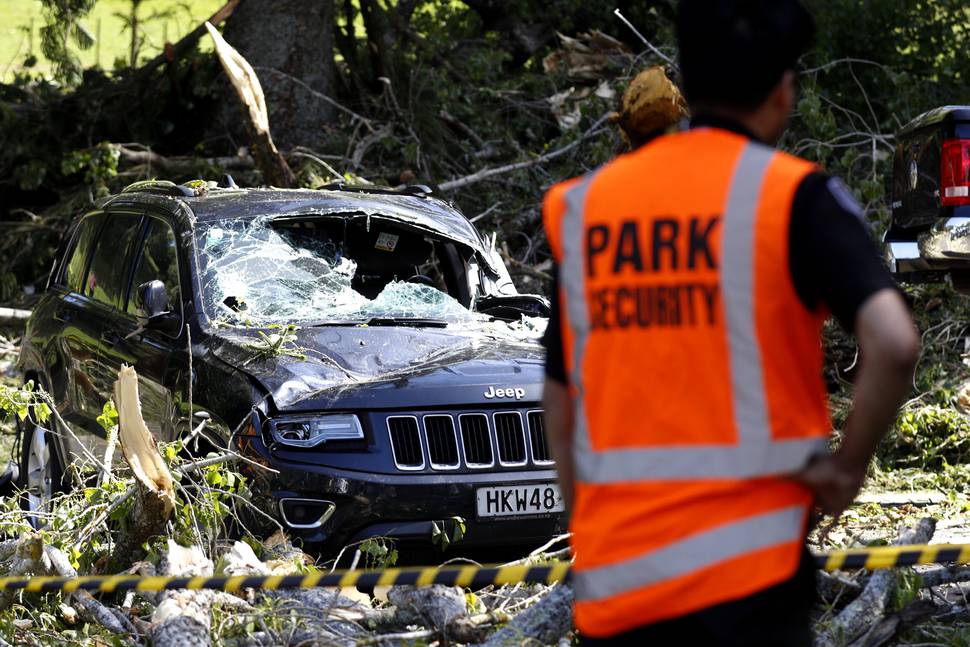 Heffernan ran over to the car park after hearing a loud crack.
"When I first got there I don't know what I was expecting... when I saw the door half open with your legs out I thought, 'Oh no there's someone in the car'," he told Hargreaves.
"We got the door open and there you were all slumped over, which is amazing because the roof was all crushed down on you."
Heffernan and about eight other men helped Yandall drag the heavy branch off the car to free Hargreaves, who was covered in glass.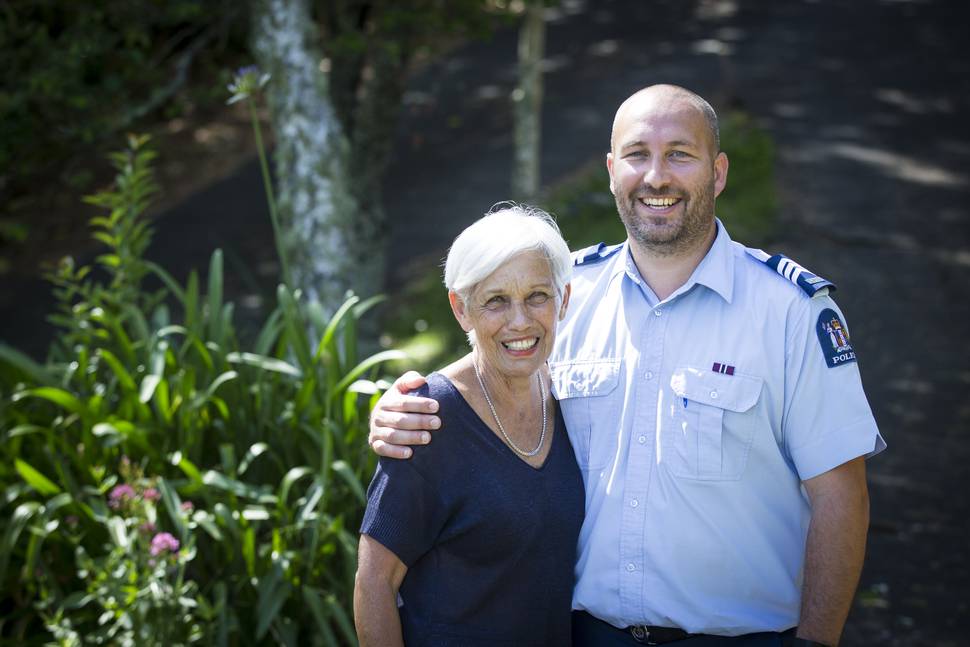 "I remember picking you up and I said put your arm around me... and I picked you up like a baby and walked you to the grass. I stayed with you the whole time."
The police officer covered Hargreaves in a jacket and waited with her son-in-law until emergency services arrived.
Hargreaves said she recalls seeing the police officer's face as he spoke to her, asking how she was.
"It's amazing how we got through it. It's just incredible."
The woman told Heffernan she thought her legs, which were sticking out of the car door had been cut off.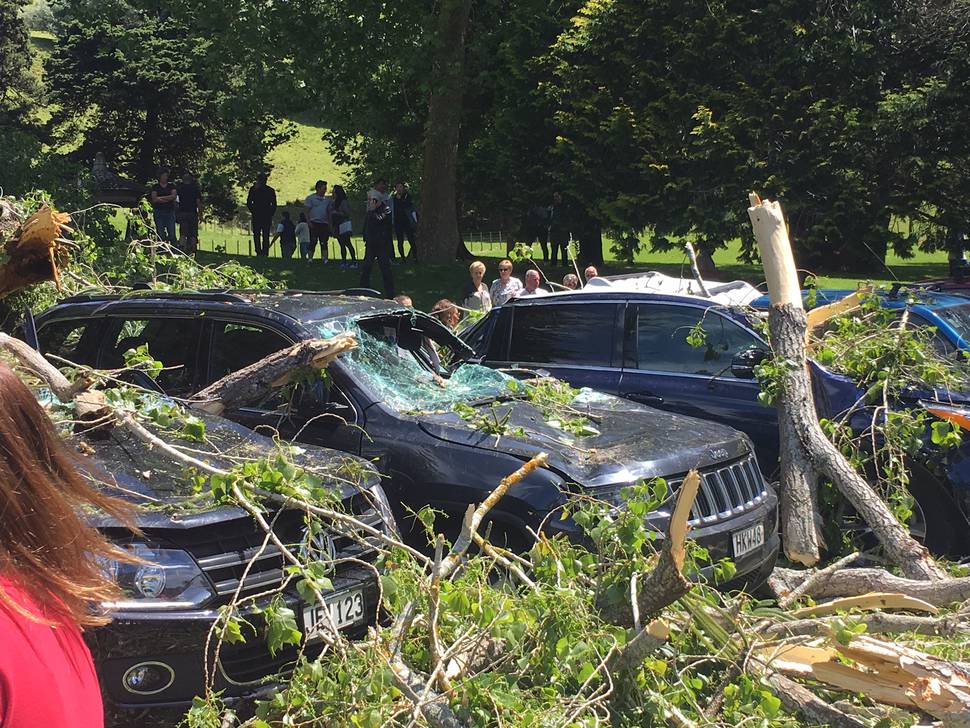 "That's what you were worried about when I first spoke to you. And I just kept saying you're fine, you're fine," the police officer said.
"I was worried because we left your shoes behind... I thought oh no she'll be angry about losing her shoes."
Heffernan had been at the park with his wife and 10-year-old daughter, walking their dogs.
They had sat and eaten ice cream near the tree, in an area with "tonnes of people", just minutes before it fell, he said.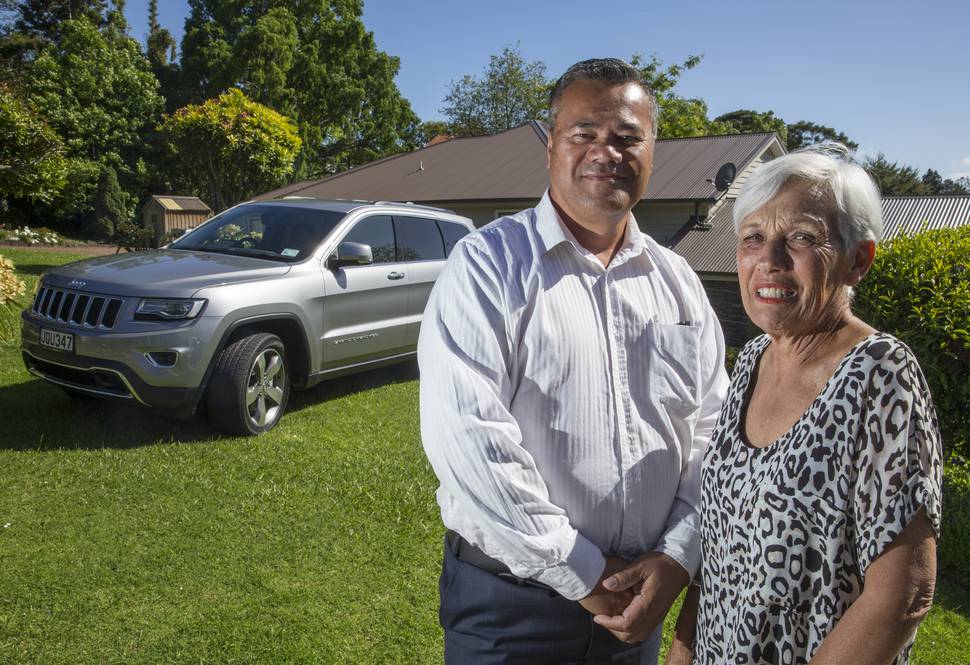 "It's amazing. There was an off-duty nurse and off-duty officer, everyone was there.
"You must've said the right prayers to someone. I'm so pleased everything's okay."
The police officer said his daughter had been asking "is the lady okay?"
"So now I can go home and tell them that you are okay."