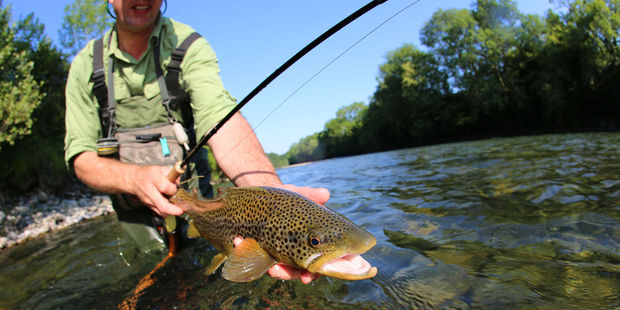 Fish and Game says it wants the Department of Conservation (DoC) to do more to reduce the threat 1080 poison poses to people gathering food from waterways, and says the present effort is inadequate and self-serving.

It also says a trial has shown that trout will eat the poisoned baits.

On Friday - the day before the trout season opened - DoC issued a warning to anglers not to eat trout from 1080 aerial drop areas for a week after a poisoning operation.

The warning came after Fish and Game raised serious concerns with both DoC and the Ministry of Primary Industries about the health threat that anglers were exposing themselves to by eating trout which had consumed 1080.

Fish and Game chief executive Bryce Johnson said on Saturday that DoC's warning did not go far enough.

"We recommend instead that anglers wait for a month after a 1080 drop before eating trout from a poisoned area," Johnson said.

Fish and Game had trialled how attractive 1080 baits were to trout and had found they would eat them.

"As a result, we have asked DoC not to drop 1080 into or immediately beside rivers and streams. The technology to do this is readily available and is already used in aerial poisoning operations along conservation land boundaries to stop 1080 falling on to neighbouring properties.

"We thought we had reached agreement in talks with DoC last week for this to happen but DoC now appears reluctant to commit itself to this course of action and we must now assume it has failed to instruct its helicopter operators dropping the 1080," Johnson said.

Fish and Game was especially concerned as DoC was conducting a major 1080 operation in trophy trout waters such as the Kahurangi National Park over the opening period of the trout fishing season.


Those rivers and streams attracted local and international anglers.

"I expect they will be pretty disgusted if they are showered with 1080 pellets, as has happened in previous years," Johnson said.

"We don't oppose efforts to save New Zealand's indigenous species, but are seriously worried by DoC's inability to organise a poison drop at a less sensitive time of year," he said.

Fish and Game called for more research into how susceptible trout were to ingesting 1080 and the health threat posed by humans eating freshwater fish exposed to the poison.

- Greymouth Star