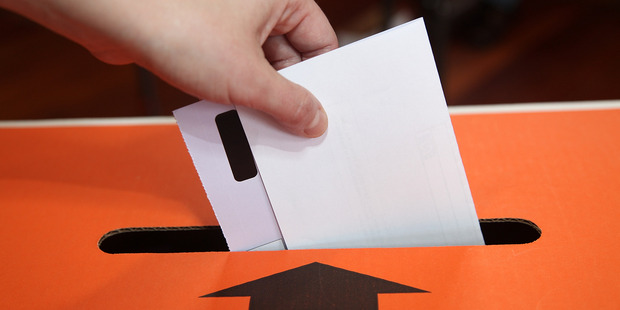 Q: What are the elections?
Every three years New Zealanders go to the polls to elect their mayor, councillors and community board members (local board members in Auckland). They also get to vote for district health board members and, depending on where they live, local licensing trusts. This year, the election is on October 8.
Q: Who can vote?
All resident electors and non-resident ratepayers whose name appears on the parliamentary electoral roll gets to vote.
Non-resident electors are on the roll in one area and pay rates on a property in another area.
Q: How many people bother?
At the 2013 election, the voter turnout was 41.3 per cent nationwide and 34.9 per cent in Auckland - a 15 per cent drop from 2010. Local Government New Zealand is aiming to lift the turnout. Q. Why should you care?There are lots of reasons why you should vote. Councils play a big part in everyone's lives - not just setting rates and other charges. Councils provide all your water needs, public parks and gardens, sports fields, community events, concerts and summer events. Auckland, Hamilton, Tauranga, New Plymouth, Wanganui and Wellington are among cities that will elect a new mayor - and your vote will help decide who it will be.
Q: What are some of the issues?
Transport and housing are the big issues in Auckland. Hamiltonians are debating a commuter train service to Auckland, and in Tauranga transport and council transparency are hot topics.
Q: What electoral system is used?
The-first-past-the-post (FPP) electoral system is used for all elections except for the three district health boards, which use the single transferable voting (STV) electoral system.
Q: What is the difference in systems?
In first-past-the-post, you tick candidate names. In the single transferable voting system, you rank the candidates you most want to be elected using numbers.
Q: How can I vote?
Postal voting papers went out on September 16 and must be returned by midday on October 8.
You can also hand deliver your voting document to one of the Auckland Council ballot boxes during the voting period.
Vote counting starts when voting closes.
Progress results usually are known about 1pm and preliminary votes later in the evening.
• For information about the Auckland elections and how to vote go to: aucklandcouncil.govt.nz
YOUR COMMUNITY, YOUR CHOICE
Monday: Auckland mayoral hopefuls share their vision
Tuesday: Waitemata
Wednesday: Albert-Eden-Roskill and Manurewa-Papakura
Thursday: Albany and Howick
Friday: Licensing trusts and DHBs
Today: All the Auckland wards, plus regional highlights, in our local body election supplement