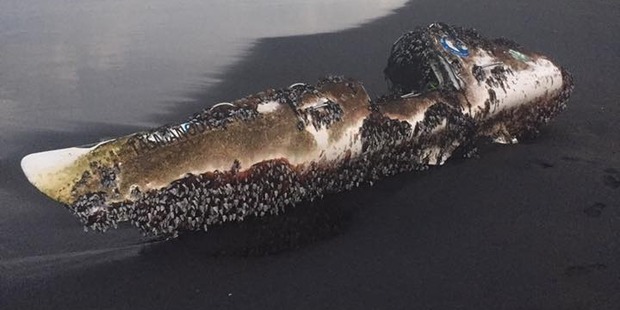 A kayak that had to be abandoned during a Tasman Sea expedition 18 months ago has washed up on an Auckland beach.
Nathan Marshall was running his dog along Muriwai Beach this morning when he came across the barnacle-covered white kayak.
"One side's all grown seaweed and grown barnacles and the other side's semi-clean ... the stickers are all intact on that side with the name [on it]," he said.
It's the Tasman Odyssey kayak, the one that Australian Stuart Cleary spent four years building in a friend's garage.
When Newstalk ZB told Mr Cleary his kayak had been found this morning, he said he couldn't believe what he was hearing. "Impossible ... Just impossible. I was only 100 kilometres off the Australian Coast when I had to let the kayak go. I thought the kayak was going to end up on the east coast of Australia."
Mr Cleary said he left the transponder in the kayak going when he was rescued, in hope he would be able to track its progress coming in, and pick the boat up later.
"After six months I ended up throwing away my trolley that I'd used for carrying the kayak around, because I thought it would have been mowed down in the shipping channels or something. I had no idea it could have made it over there."
On Sunday, December 7, 2014 Mr Cleary paddled out of Ballina in New South Wales. His plan had been to do a 15,000km solo-kayak oceanic circumnavigation of the Tasman Sea.
But that plan changed with the currents, which Mr Cleary said were perfect for an attempt at being the first solo kayaker to cross the Tasman Sea to New Zealand.
About five hours into his expedition, however, he said he encountered five-metre waves and was having problems with the sea anchor, and the GPS communicator.
"Then I had problems with my rudder," he said. "I tried to make it back to the east coast [of Australia] and about a hundred-and-something kilometres out of Coffs Harbour I was picked up by a police boat, and because the waves were still up around three metres at the time, they wouldn't tow the kayak."
"But it's made its way over to New Zealand all on its own. It's just phenomenal."
Mr Cleary says despite the fact it's not salvageable, he hopes someone will pick the kayak up off the beach and put it in a paddock somewhere for him, so he can fly over to New Zealand and have a look at what's happened to it during its 18 month, truly solo adventure.