A New Zealand couple living in the Japanese city hit by two earthquakes have been huddled in their car with their three young children for the past two nights.
A powerful earthquake with a preliminary magnitude of 7.1 struck Kumamoto in southern Japan early on Saturday, barely 24 hours after a smaller quake hit the same region and killed nine people.
Greg and Brenna Lambert, of Auckland, have been too scared to return to their home with their children, K.J, 6, Maya, 3, and Waimarie, 1.
"We were worried something would fall on us in the middle of the night," Mr Lambert told the Herald.
"I was training when the first quake struck. There was a huge bang as if a car had hit the building and then the walls started shaking.
"Moments later I got a call from my wife saying everything at home had been tossed around. A lot of plates and things like that smashed and there's a crack in the TV but that material stuff is the last thing you think about when you've got kids."
Mr Lambert and his wife moved to Japan 14 years ago to teach English.
The family spent the night after the first quake in their car in the carpark next to their house.
"A lot of our neighbours stayed there as well. There's a crack in the road in front of our house and an older house down the road is destroyed.
"One of the neighbour's kids screamed when there was aftershocks. That set my three-year-old off. She wanted to know why the ground was wobbling."
Others in the area went to evacuation centres.
"But even that wasn't entirely safe. The ceiling fell down at a school which was being used as an evacuation centre," Mr Lambert said.
The family were at a friend's house when the second earthquake struck.
"Things were flying everywhere. It was huge; it kept going and going so we stayed in our car again. We didn't get much sleep last night."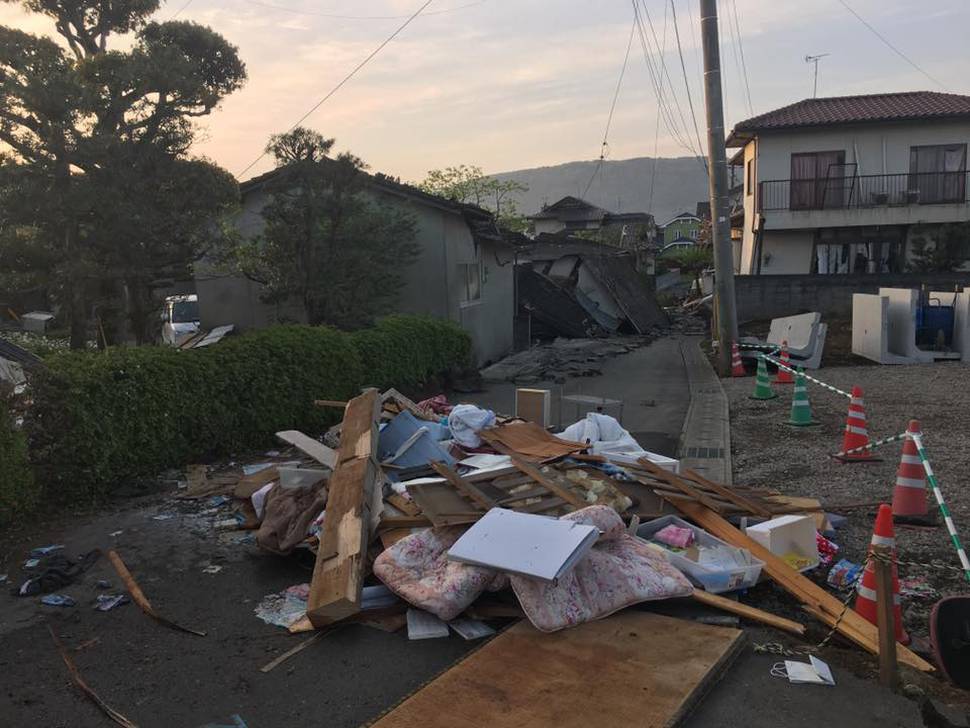 The Lamberts don't have water or power at home and the local supermarket has been cleared out.
"The army have been distributing food and water, which is great. Everyone's scared but Japanese people are really resilient.
"People have started to clean up. We're going to go home and see what more damage there is and look for food to store."
About 44,000 people stayed in shelters after Thursday's quake.
The dead included five women and four men, the Fire and Disaster Management Agency said. One man was in his 20s, and the rest of the victims ranged from their 50s to one woman in her 90s.
The Government's chief spokesman, Yoshihide Suga, said at least 860 people had been injured, 53 seriously.
Mr Suga said 1600 soldiers had joined the relief and rescue efforts.
Japan's Meteorological Agency issued an advisory for a tsunami up to 1m along the coast west of the epicentre in Kumamoto after the second quake but lifted it less than an hour later.