Warning: Graphic images
A special effects make-up artist is using her talent to create gruesome images of bloody open wounds and flesh-piercing bullet holes.
Zoe Armstrong, a 20-year-old theatre student at the University of Otago in New Zealand, shares photos of her gory creations on her Facebook and Instagram pages while working as a freelance special effects make-up artist.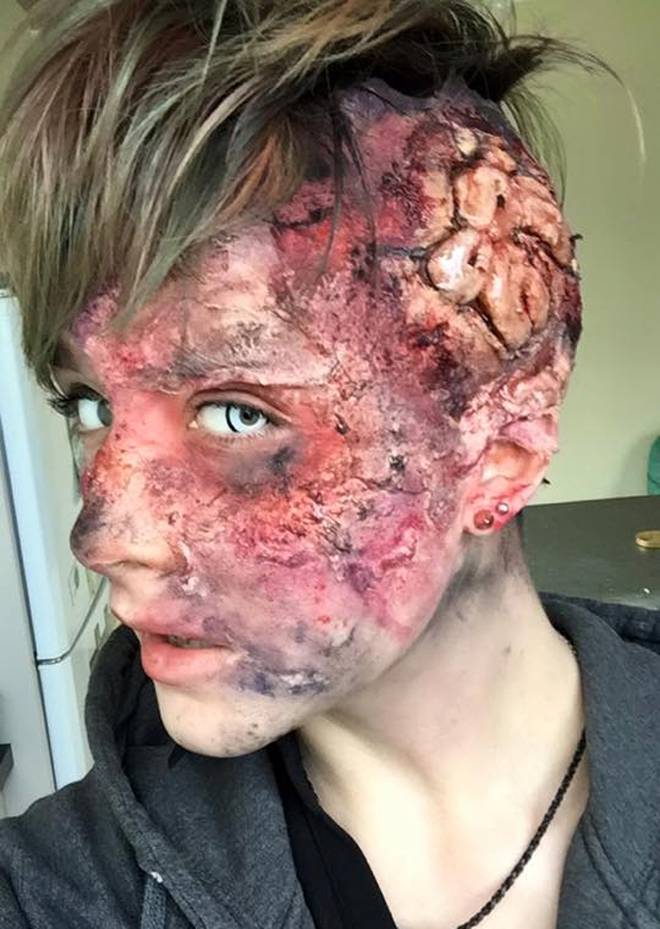 "I was always fascinated by gore and how they did zombies, wounds and fight scene make-up in movies, and I often spent my days during art classes using newspaper and old paint to make myself have a zombie hand," she told Daily Mail Online.
Zoe, who started doing special effects make-up two years ago, explained that she was inspired by a short series of YouTube tutorials about Halloween make-up created by vlogger Alexys Fleming of MadeULook.
At first, her newfound passion was just something she worked on in her spare time, but her theatre tech lecturer, Martyn Roberts, helped her pursue her interest by buying Zoe her first special effects make-up starter kit.
Zoe practiced creating simple cuts, bruises, and bullet holes until she perfected them before she moved on to more complicated - and gruesome - works.
Before she had any real special effects products, Zoe once used a toilet paper roll painted white and fake blood to create an exposed shoulder bone.
"I tend to watch a lot of YouTube videos of professional artists to learn more advanced techniques," she said, noting that she is often inspired by the work of Kiana Jones of Freakmo and Marc Clancy of Powdah FX.
The budding make-up artist started posting photos of her completed projects on Facebook in December 2014 before she began promoting her realistic portrayals of exposed bones and severed fingers on Instagram a year later.
Zoe, who said she often thinks up "random injury ideas during the day", uses wax, fake blood, gelatin, and even tissue paper to create the shockingly realistic lacerations and deep wounds when she gets home at night.
"I tend to get anatomical references and inspiration from Instagrammers who work as pathologists performing autopsies on bodies," she added of her detailed creations.
Almost all of her projects feature fake blood, and Zoe explained that in her early days she would make it with 'whatever red concoction' she could whip up in her kitchen.
Although she now uses Ben Nye brand blood products and wax, she said she will "mix up and old batch with red dye, syrup, water, and cocoa powder" if a photoshoot calls for more blood.
"It was hard to find one that looked just right, but I eventually found a half-way mix that I liked the consistency of," she said.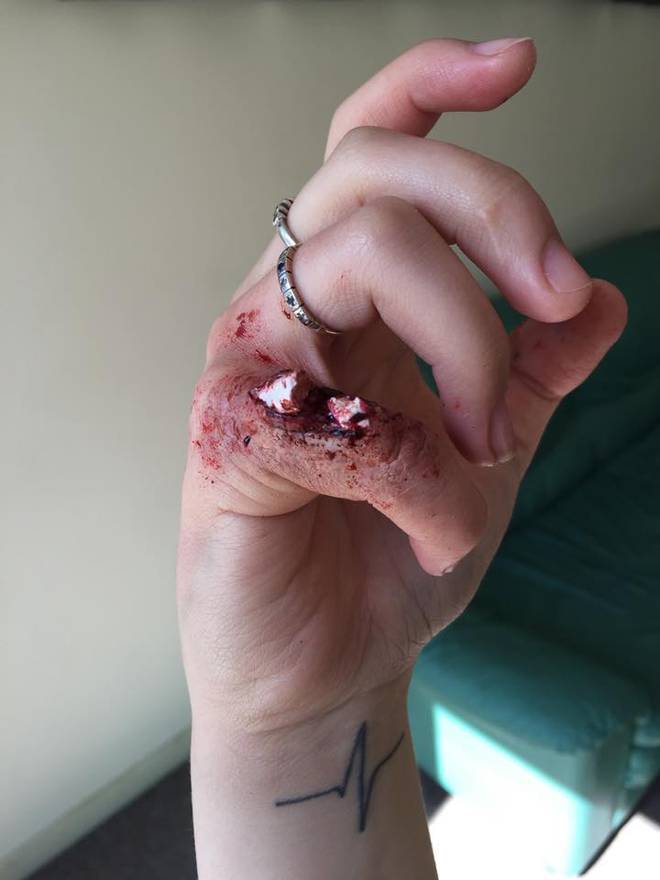 The length of Zoe's projects varies as she explains she can potentially make a simple gunshot wound in under five minutes.
However, large gashes or anything that shows veins, muscle, bones, or tendons can take her a couple of hours to complete, depending on the level of detail of the creation.
"My all time favorite is definitely the dissected hand I created a couple of months ago," she said.
Zoe used a "ton of wax", tissue paper, cotton balls, blood and alcohol activated colors to create a "very realistic looking hand with what seems to be the skin peeled off".
"It was inspired by a photo I found of the tendons and veins under the skin of a palm, so I decided to recreate it," she added. "It turned out so well."
- Daily Mail