Kiwi nurse fights to save African friends in 30-hour ordeal after yacht capsizes.
A New Zealand nurse has cheated death by staying afloat for 30 hours off the African coast after a yachting tragedy that claimed the life of her friend.
Christchurch theatre nurse and former navy officer Sarra Hunter-Weston was on a dream sailing trip when the small yacht she was on capsized just over a week ago off the continent's east coast.
The 49-year-old was "enjoying the rolling waves" on board the 6.4m yacht Ibis with two Tanzanian friends, Chaps and Ali, on February 1, 10km from Mafia Island, a small island down the coast from the popular tourist destination of Zanzibar.
At 11am a huge wave flipped the yacht and the mast smashed through the cabin top into the hull.
Hunter-Weston recalled her brush with death in a chilling blog post to her family, including her partner Igor Mazur and her sons, Matt and Daniel James.
"We tried and tried [to flip the boat] but Ibis was sinking and we realised we were going to be in deep trouble very shortly," she wrote.
"My first priority was to stress we stay together, so we put on the very substandard lifejackets and tied ourselves together."
Before the Ibis sank, Hunter-Weston and the two local men grabbed their passports and a bag with three tomatoes, a cucumber, an onion and a flask of water.
With the boat gone and no land in sight, all they could do was float and try to keep each other warm. They finally spotted land eight hours later, just as darkness fell.
Hunter-Weston said Chaps was strong but Ali showed signs of hypothermia.
"It was going to be a long, uncomfortable night so we shared a tomato, saving more for later," she wrote. The two Muslim men prayed all night and Hunter-Weston listened.
"Around 1am we gave Ali one tomato and Chaps and I had the other.
"More than once I could tell by the look in Ali's eyes that he was telling Chaps to leave him behind. No chance."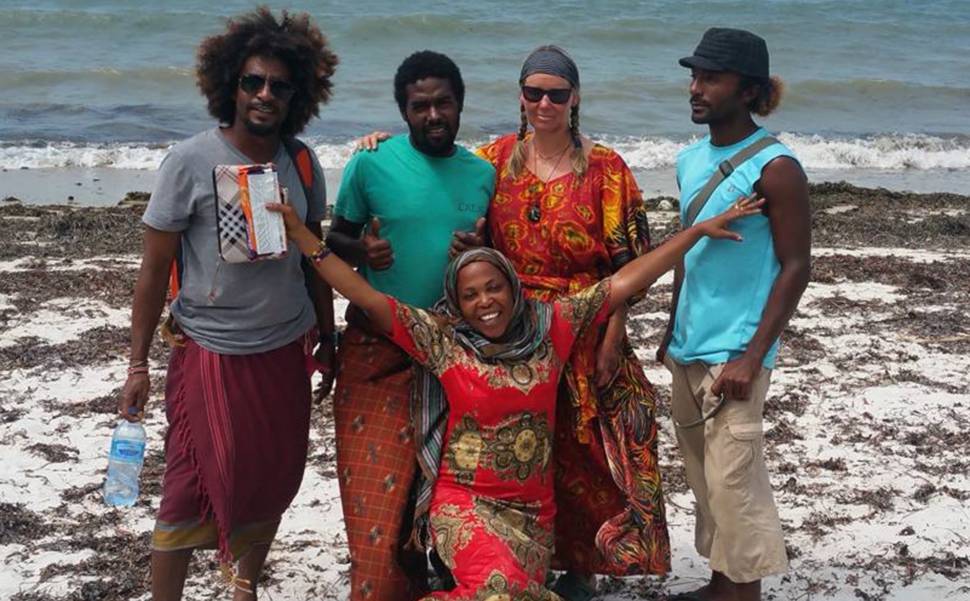 The three survived the night and "dawn was welcomed enormously".
They had a few bites of cucumber and a sip of water for energy and tried to swim past a reef to a little island spotted in the distance.
"I could see the massive crazy waves leaping on the edge of the reef and was frightened for us all," Hunter-Weston revealed. "I knew this hurdle would be the biggest of our test for life so far."
She said it was a continuous struggle to keep Ali's face from slipping under the water. Then Ali panicked and tried to climb on top of Chaps.
Nine years in the navy gave Hunter-Weston the knowledge and skills to get behind Ali and calm him down to stop him from pushing Chaps under water.
But their attempts to save Ali failed.
"He died there in that thrashing sea, in our arms. It is no small thing to watch a healthy young man die. My heart broke for his family and Chaps, his cousin."
The pair finally made it to shore at 5pm and were cared for and fed by locals before reporting the incident to the police.
Hunter-Weston said Ali's body washed ashore on Wednesday afternoon - the day after she and Chaps had dragged themselves on to the same beach.
Hunter-Weston is still in Africa and could not be contacted. Her son Matt James said she was a strong woman who worked as a nurse during the Christchurch earthquakes, spent 10 years in the navy reserves and "loved the sea".
She had originally gone to Tanzania to sail with his friend Josh Sheard on his boat Rangi but that yacht also broke a mast.
James and his brother Daniel bought their mum a greenstone fish-hook for safe travels before she left.
"She has taken everything that has happened and she is staying positive, she's pretty inspirational," James said.
A Mafia Island police spokesman confirmed the incident but was not able to give further details.
James said he was looking forward to speaking to his mother in person when she got back to New Zealand later this month.