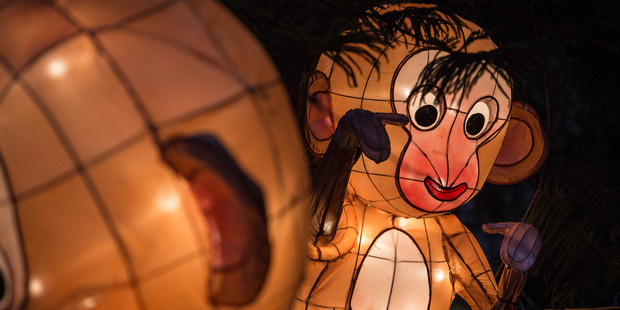 With a paint brush and the dotting of the dragon's eye, Ethnic Communities Minister Sam Lotu-Iiga will on Saturday launch Chinese New Year celebrations in Auckland.
Festivities in the city are starting earlier than usual to avoid clashes with the Waitangi Day and Auckland Anniversary Day weekends.
Chinese New Year falls on February 8, which will also mark the start of the Year of the Monkey.
Saturday's launch and Chinese New Year Festival and Market Day at ASB Showgrounds will also be the first for China's new consul-general, Xu Erwen.
Mr Lotu-Iiga said 2016 is the Year of the Monkey, the ninth animal on the Chinese zodiac calendar. "New Zealand's Asian communities, and the wider community, look forward to the lunar new year with much excitement. It is a time for renewal, for families to come together and for celebration.
"I am looking forward to the colour, the culture, the food and, of course, the traditional dragon dance."
The Mondayised Waitangi Day holiday will give families a long weekend to enjoy the activities.
Today, Auckland Tourism, Events and Economic Development (Ateed) announced that one of Beijing's biggest alternative rock bands, Second Hand Rose, and best-known puppet troupes, the Shanghai Puppet Theatre, will be the headline acts for the 2016 Auckland Lantern Festival.
After 16 years, the festival will be moving from its Albert Park base to Auckland Domain in Parnell for the first time.
"The Auckland Domain is a spectacular location, and moving the festival there keeps this popular festival in the heart of Auckland," said Ateed general manager (destination) Vivien Bridgewater.
"We are excited that some of China's top performers will be appearing at the festival for the first time."
Chinese New Year, also known as Lunar New Year or Spring Festival, is regarded as the most important Chinese festival. Celebrations traditionally run for 15 days from the eve to the 15th day of the first lunisolar Chinese calendar month. Customs and traditions vary widely among different Chinese groups over how the festival is celebrated.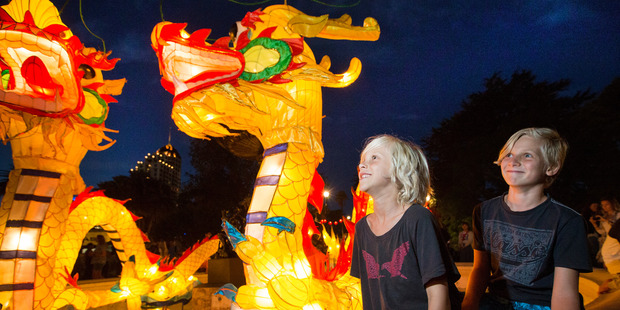 Full guide to the festivities
From dragon dancing to firecrackers, skyjumping and family activities, Chinese New Year celebrations in Auckland are set to be exciting.
Here's a run down of Chinese New Year events coming up in Auckland.
Chinese New Year, also known as Lunar New Year or Spring Festival, is regarded as the most important Chinese festival. Celebrations traditionally run for 15 days from the eve to the 15th day of the first lunisolar Chinese calendar month. Customs and traditions vary widely among different Chinese groups over how the festival is celebrated.
Chinese New Year Festival and Market Day
ASB Showgrounds, Greenlane
Saturday, January 23, 9.30am-4pm
The celebrations kicks off with a dragon dance performance. The Auckland Chinese Community Centre has been organising this annual event for nearly 30 years. It features over 200 specialist stalls selling Chinese delicacies and Chinese New Year foodstuffs, arts and crafts. Free entertainment include Chinese acrobat, cultural performances and kung fu demonstration as well as dragon and lion dancing.
Lunarfest 2016
Vodafone Events Centre, Manukau
Saturday, January 30, 3pm-11pm
Cultural performances, pop music and children's entertainment are highlights at this World TV annual event, which culminates with a fireworks display.
There's also a plant barn where you can buy your traditional "good luck" bamboo for the New Year.
New Year's Eve Firecrackers and Lion Dance
SkyCity Plaza, Cnr Victoria and Federal Sts CBD
Sunday, February 7, 7pm
SkyCity will be celebrating Chinese New Year from February 7 to Monday February 22, with free entertainment including lion dances, drumming performances and more every Friday, Saturday and Sunday nights and "red packet" giveaways. On New Year's Eve, firecrackers go off with a bang and the Sky Tower will be lit red and gold.
New Year's Day God of Fortune Skyjump
SkyCity Plaza, Cnr Victoria and Federal Sts CBD
Monday February 8, 7pm
On New Year's Day, a special eye dotting ceremony lion dance will be performed for good luck in the New Year, and the "God of Fortune" will fall from the sky with the help of the SkyJump team. Other entertainment include firecrackers and drumming performances.
Auckland Lantern Festival
Auckland Domain, Parnell
Thursday February 18-Sunday February 21
In what will be a visual feast, be enchanted by more than 800 handmade Chinese lanterns in the festival's new Auckland Domain location, and enjoy the best of traditional and contemporary Chinese culture, including roaming and main stage performers from New Zealand and China, martial arts displays, arts and craft, food stalls showcasing delicious authentic Chinese cuisine and a fireworks finale.
Northcote Chinese and Lunar New Year Festival
Northcote Shopping Centre, Lake Rd
Friday February 12, 5.30pm and Saturday February 13, 10am
The free festival features vibrant cultural performances, free children's activities and an array of Asian food stalls. Music, martial arts and cultural dances from several cultures including Korean, Japanese, Chinese and Taiwanese will be performed on the main stage. Be entertained also by Chinese lion dancing and performances by the Korean Society of Auckland and the Korean Traditional Music and Cultural Group.
Chinese New Year in Remuera
Remuera Shopping Village, Remuera Rd
Friday February 12, 5-9pm
Bring the whole family to enjoy an evening of Chinese cultural performances, traditional dragon and lion dancing, lantern making, calligraphy, children's games and Asian food. Winners of the School Lantern Competition will also be announced and their lantern creations will be displayed all evening.
Whau Chinese New Year
Sunday February 14, 1-9pm
Totara Ave, New Lynn
The suburban celebration features street food stalls, cultural performances, lion dancing and a fire works finale. Indoor demonstrations include bonsai, Chinese calligraphy, jade carving and Chinese paper art.
Parnell Monkey Exhibition
46-545 Parnell Rd, Parnell
Saturday February 6 to Wednesday Feb 10
Over two weeks, a unique and exciting exhibition will showcase 30 life-sized monkey artpieces. Led by Parnell galleries, well-known New Zealand artists and celebrities add their talent and creative touch to these monkey sculptures. On the street, cafes and restaurants will showcase monkeys in a variety of ways, from merchandise to menu options, window displays and other creative surprises. It will conclude with an auction for the Starship Foundation at Webb's auction house.
Lion Dancing in Heard Park
Heard Park, Parnell
Saturday February 13, 12.30 and 2.30pm
The sounds of beating drums and clashing symbols will fill Heard Park as lion dancers perform to bring good luck. Enjoy the colour, energy and sounds of this Chinese traditional dance, and be entertained by the gymnastic skills of performers' agility and strength as the lion twists, jumps and rolls around.
Chinese New Year Free Movie Day
Genesis Energy Theatre, Manukau
Saturday February 6, 2 and 4pm
An opportunity to get together and enjoy two great festive Chinese family movies. When a Peking family meets Au Pair, a comedy rated PG, screens at 2pm and a romantic war thriller One Step Away comes on after that at 4pm. For free tickets, contact Jim He on (09) 6302595 or email jimhe@vodafone.co.nz
Chinese New Year Fengshui and predictions
Blockhouse Bay Library
Tuesday February 16, 11am
Danny Thorn, an experienced and widely sought after classical Fengshui consultant, will speak on "The Chinese Calendar and the Year of the Metal Monkey". He is also the director of Fengshui Consultants New Zealand and Feng Shui Academy of New Zealand.
Celebrations at Auckland Libraries
www.aucklandlibraries.govt.nz
From lion dancing, gu zheng performances and tai chi demonstrations, Auckland City libraries will have an array of activities. A Chinese dance, calligraphy and story time at Pakuranga Library will kick off the programme on New Year's Eve on Sunday Feb 7. Glenfield Library will host a Tai Chi sword performances, dumpling and noodle making demonstration and Chinese painting on Saturday Feb 13, and the following Saturday, a Lunar New Year gala, featuring lion dancing, Chinese cultural performance and food will be the highlight at Howick Library.
Chinese New Year food for luck
Some Chinese dishes and ingredients take special precedence over others as they have similar sounding names with prosperity, luck and money when pronounced in Chinese. Dumpling is eaten because it resembles a silver ingot or money, symbolising wealth, and fish is usually eaten as the Chinese pronunciation "yu" is similar to abundance or surpluses. "Yu sheng" or raw fish salad is popular among Southeast Asian Chinese who shout auspicious greetings when tossing the dish, commonly known as "lo hei".
Most Chinese restaurants in Auckland have special Chinese New Year set meals comprising of "prosperity dishes". These include Jade Dragon at SkyCity (09-363 6000), Grand Harbour at the Viaduct (09-357 6889) and Grand Park at Alexandra Park (09-638 6998)
Places where you can get Yu sheng include Bunga Raya in New Lynn (09-8278666), Angie's Kitchen (09-368 1618) in the city and takeaway sets from Malaysian chef and former owner of Sri Intan Restaurant Janet Chan (09-8498033).