Greenpeace apologises for calendar photo.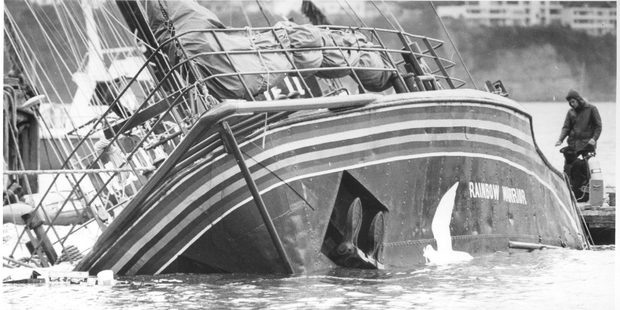 The only New Zealand crew member on board the Rainbow Warrior says it was a "painful mistake" for a Greenpeace calendar to include a photograph taken by a French spy convicted of the ship's fatal bombing.
Greenpeace USA has apologised for the image's inclusion in its 2015 promotional calendar.
The photograph, sourced by publisher Workman, was taken by nature photographer Alain Mafart-Renodier. He has been identified as Alain Mafart, one of the French military operatives involved in the attack on the Rainbow Warrior.
The incident in Auckland in 1985 killed Greenpeace photographer Fernando Pereira. The calendar was not intended for sale in New Zealand.
Greenpeace New Zealand executive director Bunny McDiarmid was a deckhand on the ship in 1985, and the only New Zealand crew member on board.
She said the image's inclusion was a "painful mistake".
"It was really the last thing you want to see, a photograph by someone like this who was involved in the bombing of the Warrior actually being in a Greenpeace publication.
Greenpeace USA apologised and said neither its staff nor Workman realised there was a problem until after production of the calendars was completed.
"It is wrong and upsetting that a picture from Mafart could ever appear anywhere in a Greenpeace publication."
Greenpeace had requested a recall of all calendars in consideration of the feelings of Pereira's family and their supporters.
However, Workman Publishing has said it would not recall the calendars unless it was reimbursed a minimum amount of US$250,000 ($300,000) for its costs and lost profits.
Workman was apologetic for its error, Ms McDiarmid said.
She said Greenpeace was doing all it could to correct the "terrible" mistake. "They have cancelled all the calendars that were going to be distributed to Greenpeace offices and are reproducing another one themselves."
The alternative version would feature photography taken by Pereira, as a tribute to him.
- APNZ