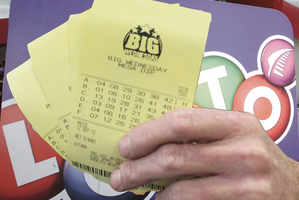 Tonight's win - from a ticket sold at Countdown Pukekohe South - is the fourth-largest in Big Wednesday history.
The largest win of $36.9m was split by a family syndicate in Masterton in June 2009.
Lotto's head of communications Emilia Mazur said the lucky Big Wednesday player would be thinking twice about whether they needed to go to work tomorrow.
"We can't wait to find out who New Zealand's latest multi-millionaire is."
It is the third time this year a Big Wednesday jackpot has been struck. In February, a Kaikoura couple won $8.5m and in April a winner in Takaka took home $7m.
The Lotto Powerball jackpot this weekend is at $6 million.
Largest Big Wednesday prizes:
June 2009: $36,890,256 (Kuripuni Lotto and Post Shop, Masterton)
Sept 2009: $27,004,410 (AJ's Lotto, Tauranga)
Sept 2013: $22,569,174 (Pak'N Save Riccarton, Christchurch)
Sept 2014: $20,246,075 (Countdown Pukekohe South, Auckland)
Read more: Lotto's biggest winners and losers
- APNZ