Robert Hislop is officially recognised as the first NZ soldier to die in World War I.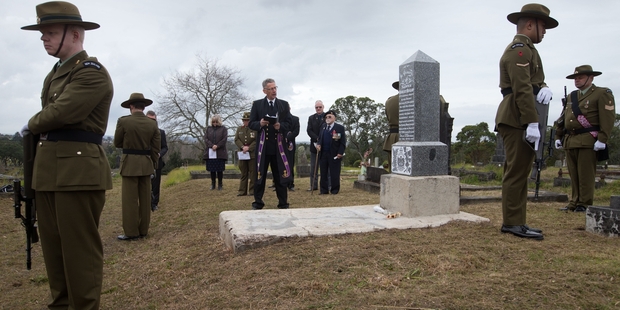 The headstone, its inscription concealed for decades under a coat of lichen, bears witness to the past.
Blasted clean on the instructions of government officials, the freshly minted granite block reveals the brief story of a young soldier's death which, after yesterday, marks a new chapter in New Zealand's military history.
The 100-year-old gravestone states that Sapper Robert Hislop was the "first New Zealand soldier to give his life during the Great War". It took a century but yesterday the Defence Force acknowledged that Hislop, a 21-year-old Railways employee, would be known as the first of more than 18,000 World War I fatalities. His place on the World War I honour roll was confirmed with full military honours yesterday at a cold, windswept graveside commemorative service.
It was actually his second military dedication, but his funeral service, on August 21, 1914, faded from view until a diligent family history campaign by his great-niece Sue Atkins sent Defence Force officials back to their military records.
The research by Mrs Atkins, helped by Auckland Museum human history collections manager Sarndra Lees, and given a public focus in Herald articles on World War I casualties, led Defence Force chief Lieutenant-General Tim Keating to add Hislop and five other servicemen to the rolls of honour of soldiers whose death was a direct result of war service.
At Waikumete Cemetery the tangible outcome of Lieutenant-General Keating's decision saw four NZ Army Reserve soldiers form a catafalque guard at Mr Hislop's grave.
During a dignified ceremony, where a navy bugler played the Last Post, Army Colonel Louisa O'Brien said that, 100 years after Hislop's death, it was an honour to acknowledge the soldier as the first New Zealand World War I casualty.
Colonel O'Brien said like countless other young men at time, Hislop eagerly and bravely put himself forward to serve his country.
She said it was fitting that his final resting place was "within the sound of the railway tracks" - a reference to the Western rail line that runs beside the sprawling Glen Eden graveyard.
Hislop had just celebrated his coming of age when he fell from the Parnell Railway Bridge, fracturing both legs.
As his mates carried him across Parnell Rise to the Strand Hotel the brave Territorial cried out in pain: "For God's sake keep my legs straight."
Before a doctor arrived, Corporal Alfred John Rankin washed Hislop's face, which was cut and grazed. The stoic soldier told his friends: "It was my fault, boys. I stepped over."
This was the railway worker's explanation for his fatal error in the dark on the night of August 13, 1914, when he stepped by mistake into thin air between the train lines.
Hislop, swift to raise his hand when New Zealand joined Britain in war against Germany, had left his hometown of Christchurch for Auckland a few weeks before his accident.
The junior porter had joined the Territorials and was assigned to the North Island Railway Battalion.
On the night he fell he was one of a three-man picket ordered to guard the Parnell bridge.
Badly shocked by his tumble, Hislop died six days after his fall - on August 19, 1914 - and was buried, after the citizens of Auckland turned out in their scores to see his funeral cortege, on August 21.
Standing beside her great-uncle's refurbished grave, Sue Atkins said she felt honoured that a poignant piece of her family - and New Zealand's - history had been settled.
She had no idea when she started tracing the family roots that it would end up in a tribute to a brave and willing soldier.
"I have been humbled to discover Robert's story."
To read previous stories about this go here.