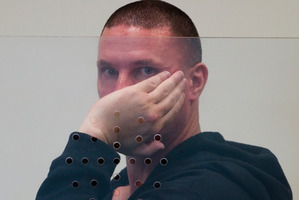 The country's most notorious stalker has again been charged with criminal harassment.
Glenn Green, 44, has been in custody for the last two months after allegations of six breaches of his release conditions over 12 days he was out of prison.
He appeared in Manukau District Court today for a trial date to be set but the court heard there was another accusation of harassment, something he has been charged with many times in the past.
Green gave a one-fingered gesture to a photographer in court and mouthed obscenities to other members of the media during the brief appearance.
His trial will take place in October and he will enter a plea to the new charge next week.
Green, who uses several aliases, was released from prison in June after completing a 30-month sentence for criminal harassment but the Parole Board conceded he was still a danger to the public.
It imposed 17 restrictive conditions upon his release and after less than two weeks of freedom Green was back behind bars.
He appeared in Manukau District Court on June 16 on six charges of breaching those conditions and was declined bail by Judge Gerard Winter.
The case came before the High Court at Auckland six weeks later with Green appealing against that decision.
The allegations involved him starting a relationship with someone without informing his probation officer and possessing gang regalia.
Justice Mark Woolford declined bail and rejected an application to allow the media report further details of the proceedings.
Green suffers from erotomania -- believing someone, usually a stranger or high-profile person, is in love with them.
His 26-year criminal history featured more than 200 convictions, 29 of which were for breaching protection orders.
At a previous appeal in 2012, Justice Christopher Allan described Green as "invasive, persistent and predatory".
The judge was concerned the stalker's behaviour had escalated to the point where he had started targeting vulnerable young women who had no knowledge of him.
- APNZ