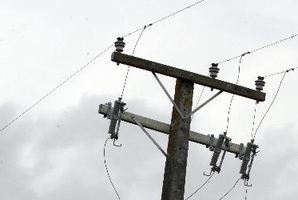 Power has been restored to 38,000 lower North Island customers after a bird's nest caught fire at a substation, causing an outage.
Homes and businesses in Upper Hutt, Masterton and Greytown had their electricity cut this afternoon, Transpower said.
Spokeswoman Rebecca Wilson said the fault was caused by a bird's nest coming into contact with electrical equipment at the Masterton substation, causing a small fire.
Power was restored to all affected customers by 3.30pm, she said.
"We would like to thank those residing in these areas for their patience during this time."
A Wairarapa Hospital spokeswoman said the facility immediately switched to emergency power during the outage.
"There were no glitches switching over."
Neither the Fire Service nor ambulance reported any problems during the outage.
Meanwhile, some Wellington businesses had disruptions to phone lines and internet connections after an unrelated problem with a Vodafone cable today.
A spokesman said there was a network router issue between 12.30pm and 2.30pm.
The problem was now "stabilised", he said.
It was not known how many businesses were affected.
- APNZ