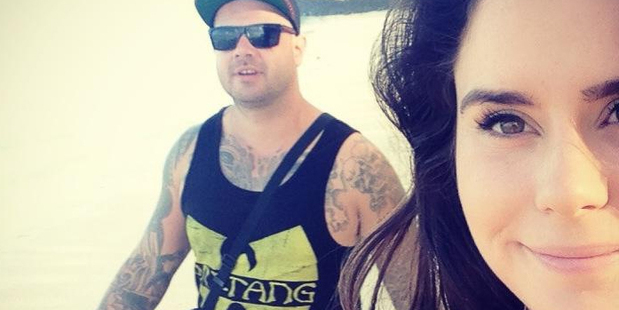 The body of Connor Morris - boyfriend of Millie Elder-Holmes - has been returned to his family, but no-one has yet been charged over his death.
Mr Morris was struck in the back of the head by an as-yet unidentified weapon in West Auckland. It has been reported that the weapon used in the attack was a machete, but police said today that is speculation.
He was pronounced dead while being transported to hospital on Saturday night, and Mr Morris' body was returned to his family today.
Two men arrested at the scene of his death in Auckland have appeared in court, on charges not related to Mr Morris's death.
They faced charges of outstanding fines and breach of community work.
Police said the men are no longer in custody and their accounts are only part of what the investigation team is working through to piece together the circumstances of Mr Morris's death.
Although a weapon is believed to have been involved, exactly what type of weapon is still yet to be determined, and investigations around the weapon and its whereabouts are ongoing, police said.
A white Honda car was towed from the scene last night which will also be examined.
The forensic scene examination on Don Buck Road has continued throughout today as investigators continued to gather evidence, police said.
Police said investigations were ongoing, and they were working hard to ensure all possible lines of enquiry are covered, with a team of more than 30 detectives working on the investigation.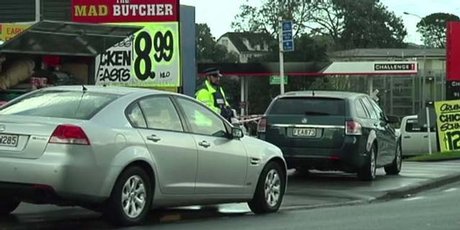 Anyone who can help police can do so anonymously, by calling the Crimestoppers line on 0800 555 111.
Information can also be given to the Operation Venice team by calling the Henderson Police Station on 09 839 0600.
Support for victim's family grows
An outpouring of support continues for the family and partner of Connor Morris.

Social media sites were inundated with heartfelt messages of support for the west Auckland family, and his high profile partner Millie Elder-Holmes.
"Oh my darling, so incredibly sorry. He loved you so much. I have so many photos of him growing up with our family...Loves him to bits! Just know you are so loved by so many," Angela Taylor wrote in a Facebook post to Elder-Holmes.

Chrystal Robertson said: "Sending lot's of Love and Strength to you and the Morris family bub [heart icon] my heart is hurting for you all xx lot of love xx [sic]".

Photos of Mr Morris smiling and on holiday with family members were also appearing in tribute to the 26-year-old.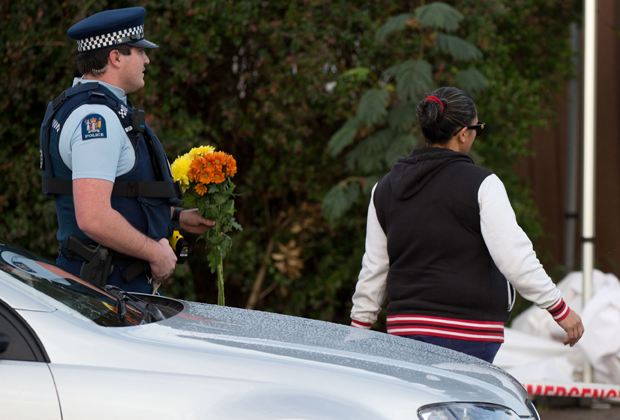 A policeman takes a passerby's posie of flowers to place them as a tribute. Photo / Richard Robinson
A snap of him snorkelling with his sister and her children had the comment, "The girls favourite Uncle!" written underneath.

Conrad Hitchcock wrote: "So sorry to hear of your loss...your brother Connor Morris will be missed dearly xoxox love goes out yo you and your whanau .. kia kaha.. still can't believe this has happened ... [sic]".
Detective Inspector Greg Cramer said the fight was not believed to have been gang related. Police have described it as a random attack.
Several residents said they heard the commotion and in particular a woman screaming about midnight.
A number of people were injured in the altercation. "There were a number of minor injuries consistent with a fight," said Mr Cramer.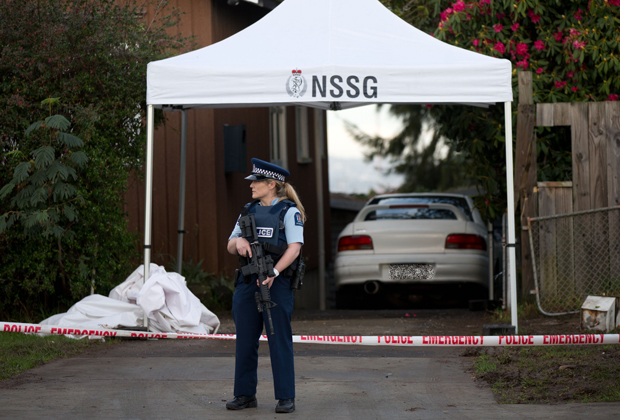 Armed Police guard the scene where Connor Morris the boyfriend of Millie Elder-Holmes was fatally attacked. Photo / Richard Robinson
Two people were arrested for disorder-related offences - one of whom received medical treatment for breathing difficulties - but no charges had been laid last night.
Mr Morris was a site manager for Auckland company BCR Concrete Construction. His boss, Glen Donovan, was devastated by the death of "a great guy".
"He was more than just your average employee. He got on really well with my wife and kids. He was loyal, honest, and turned up every day."
Mr Morris had worked for the company for just over three years.