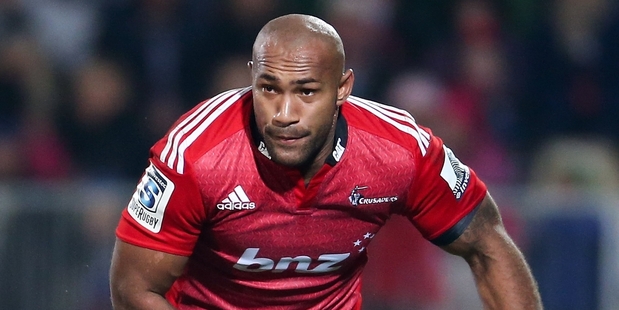 Crusaders coach Todd Blackadder has praised his Fijian winger Nemani Nadolo for walking away from racial abuse at a Christchurch bar last night.
The 26-year old winger tweeted in the early hours of this morning that he was disappointed and hurt at being called an "unfit, chubby n*****".
Crusaders coach Todd Blackadder confirmed that the incident happened at a Christchurch bar when Nadolo and team-mates were set to leave.
"Someone has sidled up and said some words that were disgraceful, to be honest. It was basically a racial slur," Blackadder said.
"But it just shows what a special man he is that he took it, moved on and didn't react.
"He was definitely the better man for it."
Many people have messaged Nadolo on Twitter to express their disgust and to show their support for him.
Ben Atiga, former Blues player, said he was disgusted but "not surprised" by the racial abuse, saying, "One of my first outings there was quite similar".
Ex-league star Monty Betham told Nadolo that the racism comes from a "blinded minority" and told him that New Zealand loved him.
Nadolo tweeted shortly after lunch today that he has moved on.
"Thank u 2 all 4 the kind tweets. whatever has been said is said. I'm just blessed 2 b here. not gonna let one person ruin it. #movingon."
The abuse came after Nadolo's disappointment in playing for the Crusaders who lost 33-32 to the Waratahs in the Super Rugby final in Sydney on Saturday night.
A last minute Waratahs penalty kick ended the Crusaders' season in heartbreaking fashion.
Nadolo made his debut for the fabled Christchurch-based franchise after three straight losses to open the season.
The massive 125kg outside back was praised for helping turn the Crusaders' year around, and in helping them reach the final.
Blackadder hopes that one person's actions won't tarnish the reputation of Canterbury or Crusader rugby fans.
"It's the lowest common denominator that can ruin all of the good will of the hundreds of thousands of bloody good people out there. Hopefully this doesn't reflect badly on anyone else," he said.
Racism should not be tolerate or condoned, the former All Black said.
He said it was especially galling for Nadolo to be subjected to such abuse after playing so well in such a big game.
The incident shouldn't stop him from playing for the Crusaders next year, Blackadder said.
"Nemani is a special man, he's been great for this team, and the community love him," Blackadder said.
"He knows he's in a good place and the people are right behind him. If you allow people who do these stupid things to control you then they've won. Nemani is definitely the bigger man."
Watch: Rugby Highlights: Waratahs 33 Crusaders 32

- APNZ