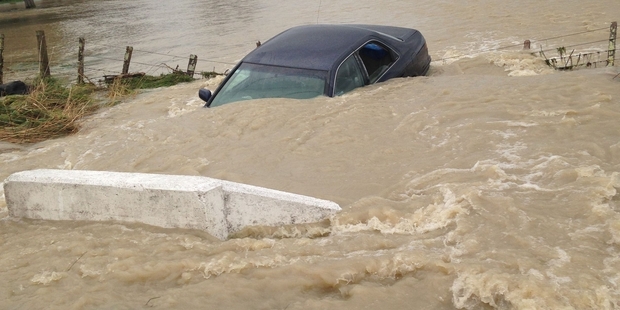 Firefighters rescued one of their own from the roof of his car yesterday morning, after floodwaters took him off the road.
Fire crews from the Carterton and Greytown fire brigades were called to a flooded Kokotau Rd at Ponatahi around 6.30am, where a car had been swept into a roadside culvert drain.
With the drain water closing in, the driver managed to climb out of the back window onto the roof of his car and call emergency services.
The man was a firefighter from the Martinborough Volunteer Fire Brigade, who was on his way to work in Carterton at the time.
"So, we had firefighters rescuing a firefighter," said Carterton fire chief Wayne Robinson.
"Luckily, he wasn't injured, just a bit wet.
"The Martinborough guys came and took him home afterwards."
Firefighters extended a ladder to the man, and he was able to crawl to safety.
Mr Robinson said the drain water was about to cover the car's roof just as the crews were arriving.
"He was very lucky."
Greytown fire chief Harry Howard said there was "at least half a metre" of floodwaters on the road at the time.
"It wasn't particularly fast moving water, but it was enough to take him off the road. That area is a common flood plain - we had to rescue someone from there in a similar situation a couple of years back."
When the Times-Age spoke to fire crews at around midday, the man's car had not yet been removed from the scene.
Police had originally shut down Kokotau Rd at the time of the accident, but Mr Robinson said it had been re-opened at around 10.30am.
The Ruamanaga River rose over 5m at the Waihenga Bridge yesterday, forcing the closure of SH53.
For more articles from this region, go to Wairarapa Times-Age