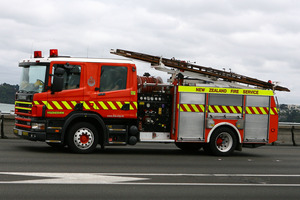 A house fire in Wellington was contained before it caused major damage to a two-storey home.
Central fire communications shift manager Chris Dalton said the fire was upgraded to a second alarm and five fire crews had been at the scene trying to control the blaze.
None of the occupants of the house were injured in the fire, Mr Dalton said.
"People were home at the time but they all got out okay."
He was not aware of the extent of the damage, however he said the two-storey home was still standing.
"I believe it was confined to a stairwell area."
The fire service was alerted to the fire at the Owhiro Bay house at 10:20am and worked to bring the blaze under control.
Currently three fire crews remained at the scene, Mr Dalton said, including a fire investigator who would ascertain how the fire started.
- APNZ