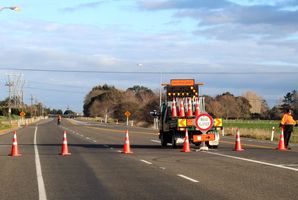 A male pedestrian died after being hit by a car in Palmerston North this morning.
The crash occurred at 5.55am on Rangitikei Line in Palmerston North, police said.
The male pedestrian died at the scene and the sole male occupant of the car was described by police as "obviously very shaken but not injured".
The accident occurred about 6kms north of Palmerston North City between Newbury Line and Hansens Line.
The police Serious Crash Unit was at the scene with other support units.
The road would be closed for up to two hours while a scene examination was conducted, police said.
Further details about the accident would be released as they came to light, Palmerston North Police said.