New book about NZ's rugby team reveals the culture has changed but the will to win remains undiminished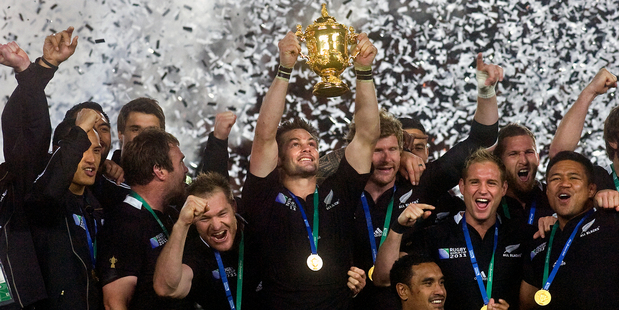 A researcher who has delved into the secrets of the All Blacks' successes says there have been marked changes in the team's culture since the 1950s — but some things have remained constant in every generation.
Massey PhD graduate, Dr Tom Johnson, is the lead author for the book Legends in Black. It's based on in-depth interviews with some of All Black rugby's biggest names, including Sir Colin Meads, Sir Brian Lochore, John Graham, Ian Kirkpatrick, Andy Haden, Andy Dalton, Wayne Shelford, John Hart, Laurie Mains, Wayne Smith and Sir Graham Henry.
Dr Johnson, 75, a former All Black trialist and New Zealand Rugby Union administrator, drew from his recently-completed doctoral thesis examining the All Blacks' winning culture over the past 60 years and began researching the book in 2008.
He said the All Blacks had undergone a massive shift from the 1950s when the players who were selected then "expected to survive and produce the goods".
"In those early days, you were just thrown into it, so the senior players of those eras took on the responsibility informally and they did a very good job of imposing certain disciplines and talking strategies and tactics and those sorts of things.
"There were mixed views about whether the back seat of the bus thing was good or not, but it certainly had a very important part in the discipline of the team."
Dr Johnson said the team's culture evolved to a collective formal leadership that has been very successful for them, particularly over the last two coaching regimes.
"You've got to have key people to form that collective leadership and that to me has been an outstanding success for the All Blacks both with the Graham Henry, Steve Hansen and Wayne Smith regime, to the current regime."
Despite the changes, there had been constants through all the eras, he said.
"The emphasis on the need to win has always been paramount and the further historically we went from those early days, the more conscious players became of the legacy they had inherited — they didn't want to let down previous All Black sides.
"That has gone right through, the pride in the jersey, the pride in winning and the respect for the legacy — that has formed a very important part of their culture."
The book does not include All Black captain Richie McCaw, who Dr Johnson said could not be interviewed because of his contractual arrangements.

Book extracts
"The winning ethos was so fundamental to the culture and had been ingrained for years, and it just keeps going. The wonderful thing about the All Blacks is the tradition of their history, the belief by players in what happened before. Winning was something that was an absolute focus."
— Former All Black coach John Hart
"Leadership is within the team. I had a role as a fixer, if there was trouble going on — not a dirty role, but as the one able to talk to the opposition and tell them: 'I wouldn't do that again, if I were you'."
— Sir Colin Meads
Hang in there Rich, Kiwis say, as aches and pains set in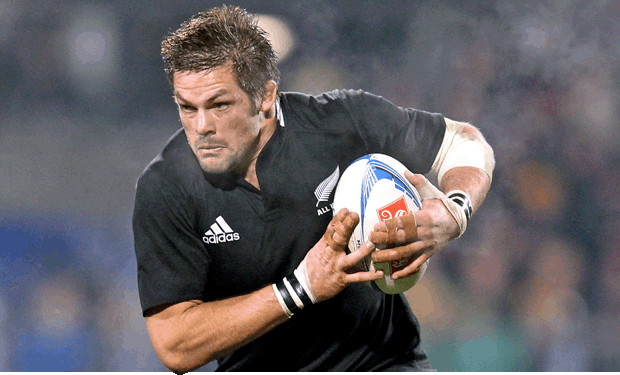 McCaw will be going on 35 at next year's World Cup. Photo / Getty
He'll be on the wrong end of 34 if he makes next year's Rugby World Cup squad but most New Zealanders say All Blacks captain Richie McCaw should play on, a survey shows.
A Herald-DigiPoll survey showed that 61.8 per cent of respondents wanted to see McCaw finish this season and play on as long as he can.
The figure is more than double that of those who say the All Blacks great should hang up his boots.
McCaw will run out on to AMI Stadium tonight wearing the No6 jersey against the Sharks in the Super Rugby semifinal as he returns from a rib injury.
If he gets through this year's duties and next season unscathed, and starts against Argentina at Wembley Stadium in the All Blacks' opening match at next year's Rugby World Cup tournament, he will be 34 years and 263 days old.
His predecessor, flanker Josh Kronfeld, said McCaw had been fortunate not to suffer too many serious injuries in his career, but niggles were starting to catch up.
"The thing that's affecting him at the moment is that he's not really getting a swing of games, he needs a couple of games under his belt.
"He's just starting to find that swagger and form, and then he gets another injury and he's out again and that's kind of been the last couple of years."
Kronfeld, who played his last test aged 29 years and 60 days, said staying motivated and injury-free late in his playing career would probably remain among McCaw's big challenges.
"I know for myself, at 33, I thought: 'No I'm over this'.
"When you're at Richie's age and playing at that intensity the turnaround gets harder. Typically, a week turnaround is a piece of cake but as you get older, it's more a week and a half — the Thursday or Friday before the game is when you start feeling 100 per cent again."
He said McCaw was an exceptional player still doing brilliant things on the field but was possibly being judged harshly by observers.
"If you have a whole team looking out for you ... in my time they had people showing up to referees with laptops to show them what I was doing illegally — how can you compete against that? You can't.
"Richie without doubt will have that happening, you're not just competing against your age, but youth and 15 other guys who want you to fail."
Kronfeld questioned a shift to the blindside for McCaw as Michael Jones did late in his career. He said the impact of Jerome Kaino, Liam Messam and Steven Luatua was too good to ignore.
He said McCaw making next year's Rugby World Cup was a question only the captain could answer.
"I think the coaches dearly want him there but if you have a young guy who is really performing, and some of them are, how much do you negate the opportunity of them missing out on something special because you're looking after Richie?
"It's a difficult trade-off."