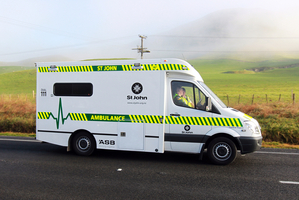 A car has split in two following a crash in Gore this morning.
Southern Police Communications Shift Inspector Rick Drury said the crash occurred on Gore's main street around 5.40am.
"There were reports a single vehicle had collided with a tree, reportedly due to the impact involved, the car split in half."
State Highway 1 was currently closed in Mataura, a town to the south of Gore, and a small detour was in place, Mr Drury said.
"A person in the vehicle has been airlifted by helicopter to hospital with serious injuries." They were believed to have been the driver of the vehicle, he said.
Initial reports suggested another person could have been in the vehicle, however police were no longer looking for anyone else, Mr Drury said.
Meanwhile, the search for a truck driver missing after the freight truck he was driving crashed off the road on the Hundalee Hill on State Highway 1 south of Kaikoura yesterday will continue this morning.
"The crane is still on site and every effort will be made to locate the driver and remove the vehicle," Mr Drury said.
The road had reopened following the crash, but was currently down to one lane, Mr Drury said. It could be closed again today for periods while the truck was recovered.
Rescue teams were winched down the 25m bank by helicopter and others abseiled in to try to find the driver after the truck crashed around 5.30am yesterday morning.
Hurunui Sergeant Graeme Crossan told Radio New Zealand this morning that when there was enough light attempts to recover the truck would continue.
A infra-red camera was used to try and locate the driver last night, however it gave no indication that the driver was located beyond the wreckage of the truck, he said.
The most likely scenario was that the driver was located under the wreckage, Mr Crossan said.
"We'll be lifting the truck to confirm [that] or otherwise. If that's not successful, we've got cliff rescue teams and Search and Rescue are on stand-by who will be conducting physical searches of the cliff banks."
Chances of the driver still being alive were remote due to the impact of the truck and low 3 degree temperatures in the area overnight, he said.
- APNZ