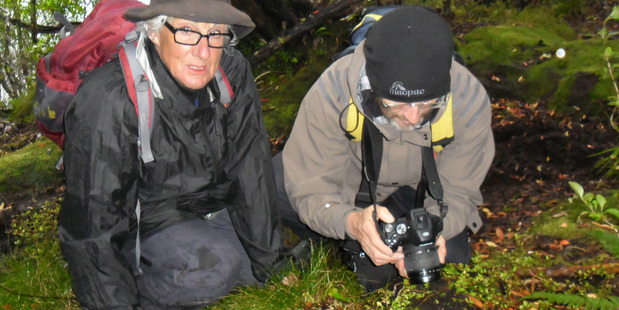 Orchid smuggling is commonplace in the rainforests of Asia and Latin America and New Zealand has also been targeted.
The BBC has reported that every day rare wild orchids are snatched from native habitats, trafficked across boarders and sold to the shadiest of nurseries.
"Plants which have inspired frenzied collection since the 18th Century, because of lustrous blooms and incredible variety, still fetch good money from hungry-eyed collectors."
Orchid smuggling is a sub-set of a global black market in plants and wildlife, says the BBC, and in addition to wealthy collectors, buyers include those seeking ingredients for traditional Asian medicines.
I witnessed the powerful allure of the orchid during a Sub Antarctic eco-tourism voyage in December.
I was among 50 passengers aboard the ice breaker Spirit of Enderby, who went ashore on Auckland Island to visit some old World War II Coast Watchers' huts.
Several of my shipmates began dropping to their knees and pointing cameras at the ground. They'd discovered tiny orchids growing around the shores of Carnley Harbour.
With little idea what was going on, I went along with this strange activity. Thus, we did not so much hike, as "inch" our way, up into the surrounding hills to see the huts.
Those aboard the Spirit of Enderby would not have dreamt of disturbing these plants but not all orchid fanciers are so well behaved.
In 2004, the Wildlife Enforcement Group prosecuted two Czech orchid smugglers, in what was New Zealand's first case of native flora smuggling.
The men were fined $7500 each for trying to smuggle native orchid plants out of New Zealand. Cardiologist Cestmir Cihalik, 54, and Jindrich Smitak, 60, a Czech government environmental protection agency inspector, were sentenced in Manukau District Court.
They'd used a rental car during a carefully planned plant collecting expedition.
Following several weeks of orchid snatching, members of the Wildlife Enforcement Group arrested the men as they prepared to fly out of Auckland Airport.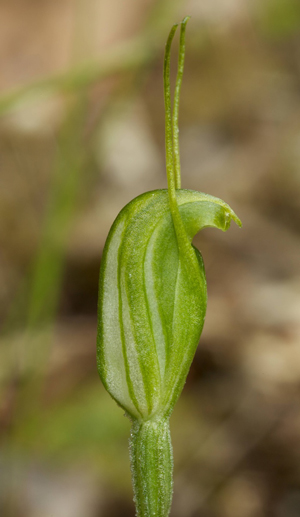 Smitak admitted taking native plants without authority from Nelson Lakes National Park, Mt Aspiring National Park and Fiordland National Park.
Cihalik had 40 individual plants in his luggage, while Smitak had 43.
These orchids (dried as well as live) weren't on a threatened plant list, however, all New Zealand orchids are covered under a clause in the international CITES Convention.
This protects endangered plants, plus species not necessarily threatened with extinction but which could be unless trade is closely controlled.
Smitak and Cihalik did not have permits to take anything and wouldn't have been granted them had they applied. DoC said plants they collected would have been worth a lot on the black market. "The appearance of the plants in Europe would have heightened further commercial demand for orchids from this country," a DoC spokesperson said.


Green hood orchid
A New Zealand orchid which certainly is rare and endangered is the endemic dwarf green-hood orchid (Pterostylis puberula).
Since the 1990s this plant has only been seen in the Coromandel Peninsula, Three Kings Islands to northwest Nelson.
Its official status is "nationally endangered", so the exact location of the Coromandel population is being kept secret to deter possible orchid enthusiasts and plant collectors.
DoC biodiversity ranger Leon Pickering is not aware of any illegal harvesting by visitors from overseas.
But he believes the orchids have been targeted by Kiwi orchid enthusiasts.
"Some collectors see little wrong with removing rare specimens from the bush, though probably not to sell. They probably just want to own a special orchid and may also think taking it from the bush and planting it in their garden will help it survive. Our strategy is to preserve bio diversity by keeping such plants in their native habitat and only transfer them (to an island) as a last resort."
Pickering says even taking photographs of the orchids is discouraged for security reasons. He has denied a request to photograph the orchids on behalf of an overseas collector.
"Sure we keep an eye on security, but the main threat to the survival of these plants is from rats and weeds," he points out.
Enter the Thames Valley branch of the New Zealand Deer Stalkers Association, whose members are in on the secret location.
About 30 deer of these stalkers play a vital role in placing, maintaining and regularly checking the trap line and monitoring and controlling weeds.
There are 58 traps that have to be checked every fortnight along a 3 km trapline from mid-August to mid-April each season to cover the crucial flowering and seeding season.
Weed control by hand pulling also reduces competition in the disturbed ground habitats that the orchid favours.


Hunters pitch in
Thames Valley Deer Stalkers Association member Peter Flynn co-ordinates the three-year-project, which is building on the success of a similar project in 2005.
"The first year of trapping produced 154 rats, six stoats and 20 mice. This year a total of 68 rats, one stoat and 40 mice were removed, showing we're reducing the rodent numbers. The programme is a win-win situation for us and DOC," Flynn said.
"In return for our help, a DoC officer from Thames helps with our HUNTS course by doing a presentation on hunting permits, back country hut passes, hut books and hunting access. The trapping work helps our volunteers to keep their hunting fitness up and everyone looks forward to trying out the local cafés, both pre and post-monitoring."
Through the arrangement DoC and the Thames branch have built a closer relationship over recent years.
"We already have two memoranda of understanding with DOC regarding two huts in the Kaimais. These huts were going to be removed, so we put up our hand and we now do maintenance on them with the assistance of DOC. It's all about getting out there and protecting what we have and enjoying our beautiful country."
Mike Bradstock, the editor of the NZ Deerstalkers journal Hunting & Wildlife says Association members add to the conservation estate through voluntary work to protect threatened species.
"People who don't know any better could be forgiven for thinking that just about all conservation work in our forests is done by DOC or Forest and Bird, when in fact there's a lot more to it," says Bradstock.
"Around the country, hunting organisations like the NZDA do conservation work as well. And it isn't just about controlling game animals by hunting for recreation.
"Far from it. Members also do culls, trapping, weed control, planting and maintenance work. Some of this work is in places they don't even hunt. Hunters have always been interested in conservation and this work is continuing to grow.
"The work is also being boosted by corporate sponsorships, strategic alliances like memoranda of understanding with DoC. There are benefits for all outdoors users, and those involved deserve more recognition."