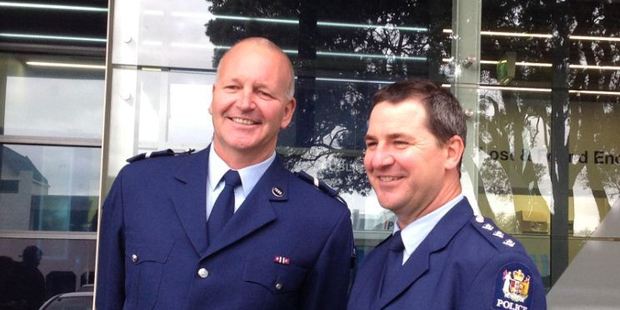 Tauranga policeman Adrian Oldham has been shot at and kidnapped but says helping save an elderly woman from a burning house this week will stick in his mind more than anything else.
Mr Oldham, a Senior Constable based in Papamoa, spoke to media in a press conference this afternoon about his ordeal.
The 53-year-old has been hailed a hero after stopping at a house fire on Sunday night and breaking into the house when he saw a woman inside collapse while trying to open the door.
Watch the full story here.
Mr Oldham said he had never experienced anything like it.
He described the smoke as thick, black, acrid smoke. The officer couldn't see a thing and crawled along the floor with his eyes closed feeling around to find the woman, he said.
Mr Oldham confessed he didn't think he could break in to save the woman but he said to himself "that's someone's grandma in there".
"If she hadn't come to the door... I probably wouldn't have gone into the house as I did."
When Mr Oldham was told she well may have died if he had not acted as he did, he said he felt very emotional.
He said it probably didn't sink in until the next day.
Despite the danger involved, Mr Oldham said he would do it again at the drop of a hat and that he loved his job.
Mr Oldham has a 24-year old son, 22-year old daughter, 3-year-old grandson and wife.
They all think he's a hero, he said.
One of the victim's two daughters told the Bay of Plenty Times her mother was discharged from hospital yesterday and was "doing okay considering".
Her mother, who had lived at the property for 26 years, would be staying with her in Greerton until the family had a chance to discuss what to do next, she said.
"I want to say a huge thank you to all the emergency services and police staff for everything they did.
"They were absolutely amazing.
"I have always said everything you own can be replaced but you can't replace a life and I'm so grateful my mother is alive," she said.
The daughter said the house was insured and had working smoke alarms.
Two sets of neighbours said they were amazed the woman was alive.
Anahere Harper and Daniel McLeod have lived next to the victim for two years and said the fire was so fierce their front fence glowed "orange" and a tree on their property caught alight. "Moments after I walked outside to see what was happening there was an almighty woosh," Miss Harper said.
They tried to put the fire out with a garden hose before the fire crews arrived, but were forced to flee to the roadside because the heat was too intense.
"She's a very, lovely lady, and so, so lucky to be alive. It makes me almost cry thinking about it," she said.
Stunned neighbours Jan and Gerald Connery, who have lived next door to the woman for about 10 years, said they were extremely upset for the victim.
Mrs Connery said she was cooking dinner when she heard loud banging, which must have been the cladding on the house exploding.
"When I looked out I saw flames coming out of the window as high as the roof. I got quite a shock actually. I was so relieved when I saw the police were bringing her out," she said.
"We were told by police to prepare to evacuate if needed but luckily it did not come to that. It is so fortunate the police officer was driving past."
Western Bay of Plenty area commander Inspector Clifford Paxton and Police Commissioner Mike Bush have praised the men's actions.
Read more of the dramatic rescue here.
For more articles from this region, go to Bay of Plenty Times