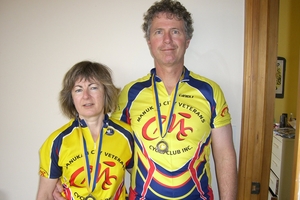 A truck driver involved in a collision that killed a cyclist says he hadn't had an eye examination in at least five years at the time of the accident.
He later underwent an eye test that saw him require specialist glasses, an inquest has heard.
Larry James Boulcott is giving evidence at an inquest in to the death of Auckland mother of two Jane Farrelly.
Mrs Farrelly, 50, died while on a group ride with her husband Ian and friends from the Manukau Veterans Cycle Club near Taupo last March after the truck Mr Boulcott was driving collided with her bicycle.
Under cross-examination by counsel for the Farrelly family Desley Horton, Mr Boulcott admitted to not having his eyes tested for "probably five years or more".
He told the inquest he began wearing specialist glasses in the months after the accident.
Despite holding a truck driver's licence for 15 years, he said he had driven "an over-dimensional truck", on this occasion hauling a bulldozer and hay bales, for just two.
He also admitted to driving on a road that he didn't use regularly.
Mr Boulcott said he allowed "at least half a truck" in between the vehicle he was driving and two cyclists prior to coming across the group Mrs Farrelly was in.
But one of those cyclists, Diane Cunningham, yesterday gave evidence that contradicted this. She laid a complaint with Taupo police about her close encounter with Mr Boulcott.
The inquest before Coroner Gordon Matenga will hear from four more witnesses after Mr Boulcott completes his evidence today.