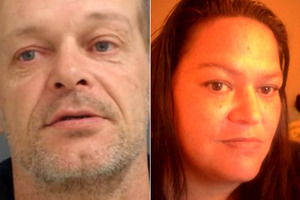 Julie Anne Hutchinson thought she'd met the man of her dreams.
He appeared to be a self-made success who owned his own business, wined and dined her, and was kind and gentle.
"I've never been treated like that before," she said.
When he went down on bended knee and proposed, the single mother-of-five immediately said yes.
But days later, she woke up to find he had disappeared, along with property worth $600, including cash, a cellphone, and PlayStation.
"I doubt anything anyone tells me anymore," said the 34-year-old sickness beneficiary from Palmerston North.
"I have serious trust issues. I won't ever be the same entering a relationship again."
Miss Hutchinson wasn't alone.
Shane Bruce Grogan, also known as Shane Calder, was yesterday jailed at Christchurch District Court for two years four months, and ordered to pay $1800 in reparation for ripping off Hutchison and two other vulnerable and lonely women he met on internet dating sites.
Judge Tony Couch described the offending as "repeated cynical exploitation of vulnerable women".
"You have hurt these women very badly," the judge told him.
Police issued a plea for help in tracking Grogan down earlier this year and arrested him at a Christchurch mall after a tip-off from a member of the public.
At Christchurch District Court he earlier pleaded guilty to six charges of theft, unlawfully taking a motor vehicle, using a document for pecuniary advantage, and breach of a protection order.
Defence counsel Ruth Buddicom said Grogan had been lonely and depressed during this period while he had been estranged from his partner.
She claimed he regretted his actions and was genuinely apologetic.
Miss Hutchinson met Grogan on Badoo.com, a popular dating site, last October or November.
"He was very kind and gentle. He sounded like a good guy."
They started texting and he soon suggested coming to visit, Miss Hutchinson recalls.
"I felt pretty good about that. I had two male flatmates I could turn to if anything went wrong."
"He pretty much cooked dinner every night. The second night he went out and bought steak and sat me down on the couch with a glass of wine and I thought that was pretty cool. I've never been treated like that before."
Two days into his stay, he went down on bended knee, produced an engagement ring and asked for her hand in marriage.
"I was stunned, but happy, and said 'yes'."
They started planning their new life together and she went online to announce her engagement.
"He knew I was into speedway and he had pictures of himself as the flag runner at the Christchurch speedway, Ruapuna. He also had a square diamond ring which he said was given to him by Ruapuna for working there so long."
But when Miss Hutchinson woke up on November 6, her perfect new world came crashing down.
"He was there when I went to bed at 1.30am. When I woke up at 7.30am, he was gone and my stuff was gone," she said.
"I tried to text and ring him but got no answer. I phoned the police that day."
Grogan then "tried to worm his way back in" in January.
"I just told him to f-off."
Miss Hutchinson is glad that he is locked up.
"I don't want him ... other females [being hurt]."
- APNZ