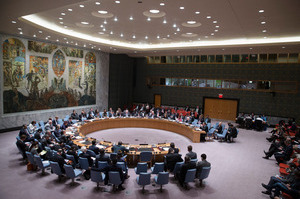 Eleven UN ambassadors are being schmoozed in Queenstown in an attempt to win support for a New Zealand seat on the UN Security Council.
The representatives' taxpayer-paid trip was revealed in briefing notes from Prime Minister John Key which were accidentally emailed to a reporter this afternoon.
The National-led Government has previously said the Government would not throw a lot of money at the Security Council bid.
Foreign Affairs Minister Murray McCully did not reveal the cost of hosting the UN representatives, but said their trip was paid for from within Ministry of Foreign Affairs and Trade baselines.
"I am no more interested in providing detail around the visits than Steve Hansen is of providing his detailed plans for next Saturday's All Blacks test," Mr McCully said.
New Zealand was hosting several visits from New York-based UN ambassadors this year. The minister said more details would be released after the vote in October.
Mr McCully said their visit was not purely focused on winning a seat at the Security Council table.
"While a prime focus is New Zealand's UN Security Council campaign, the visits are also designed to promote key trade and economic objectives, especially in relation to the agricultural sector."
Prime Minister John Key said New Zealand had been lobbying for seven years to get back on the council.
"We need to get around 130 countries to vote 'yes', and we're in a contest against Turkey and Spain," he told reporters at a press conference in Tauranga today.
"Many New Zealanders would say it's right that New Zealand has a place on the Security Council every so often. It costs money to do that."
Mr Key's briefing notes said New Zealand had invited ambassadors "who didn't know much about New Zealand to learn more about who we are, what we're good at, and how we work? They need to know ? what motivates us, and what we can bring to the world stage."
Mr Key's talking points for the media conference in Tauranga were accidentally emailed to Newstalk ZB by Mr Key's press secretary.