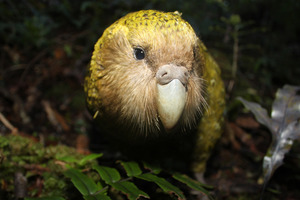 New DNA-based research investigating how certain foods influence the kakapo's reproductive activity could help increase numbers of the critically endangered bird.
Just 129 kakapo today remain alive in New Zealand, on two predator-free islands, and helping the bulky, flightless parrot to breed has proven a big challenge for conservationists.
Dr Catherine Davis turned to DNA to better get to grips with the kakapo's unique reproductive approach, which is thought to be linked to the masting, or abundant fruiting, of native foods such as rimu and beech trees.
Dr Davis, who graduated from Victoria University last week with a PhD in Cell and Molecular Bioscience, extracted the DNA of tissue samples from multiple kakapo, determined the structures of certain proteins and compared them with the DNA of other birds such as chickens.
The results of the DNA research - the first of its kind into New Zealand parrots - showed the sequences were indeed different.
"I found that the sequence of the protein could potentially influence the fertility, and therefore the reproductive pattern, of kakapo," she said.
She also sought to test extracts of native plants known to be a source of food for kakapo to determine if exposure to different compounds at certain times of the year could be linked to its reproductive cycle.
"For example, is there something present, or absent, in the food that the kakapo are eating that is more abundant during a mast year that makes them more fertile"
Dr Davis looked at different native plants to see if they contained compounds that had the ability to act like oestrogen, and whether these levels changed in a mast year.
While more research was needed on the potency of the selected plants, Dr Davis believed that if it could be determined that the plants had the steroid-like compounds present, conservationists could look at introducing more of them to kakapo habitats.
Dr Davis believed her work could feed into the Department of Conservation's long-term kakapo strategy and influence future research.
Forest and Bird advocacy manager Kevin Hackwell said a connection had long been established between the kakapo's breeding and feeding, and congratulated Dr Davis for investigating the link further.
"This sort of work refining the understanding is useful because everything we can do to speed up their reproduction is really important."
The last recorded sighting of kakapo on the North Island was more than a century ago, west of Ruapehu in 1905.
While predation had diminished its population to a critical level, the "big issue" facing kakapo conservation today was reproduction.