Nothing for City Rail Link but NZTA gets $375 million interest-free loan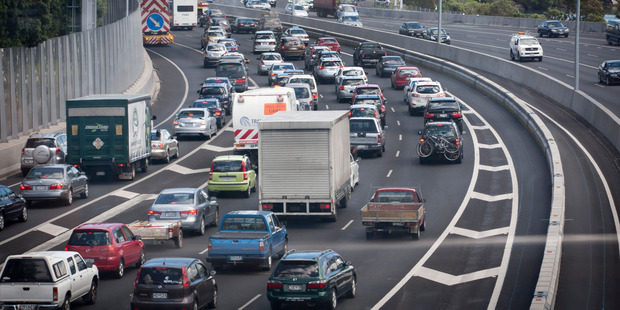 Auckland motorways have been paved with gold in the Budget, while not an extra cent has gone to public transport.
Transport Minister Gerry Brownlee has announced a $375 million interest-free loan to the New Zealand Transport Authority to accelerate $815 million of motorway projects.
The list of projects is backed by the Auckland Business Forum and Road Transport Forum, but has been criticised by the youth organisation Generation Zero as a "backwards step".
Labour transport spokesman Phil Twyford said it showed National's obsession with motorways at the expense of building a modern public transport system. There was nothing for the City Rail Link, he said.
Auckland Business Forum chairman Michael Barnett said some of the projects had sat on Auckland plans for decades, while Road Transport Forum chief executive Ken Shirley said the interest-free loan showed a heartening commitment to long-term infrastructure investments vital for sustained economic growth.
"Some of our Auckland operators, especially those moving freight to and from the Ports of Auckland, will be disappointed that money has only been allocated for further investigation of preferred scope of the east-west route, but it is essential it has robust scrutiny," Mr Shirley said.
Manurewa-Papakura councillor Calum Penrose said investing $210 million towards the upgrade of the Takanini interchange and widening the Southern Motorway between Manukau and and Papakura was welcome news.
"The start date for work on the Takanini interchange is 2016-2017 which can't come soon enough."
Generation Zero spokesman Dr Sudhvir Singh said: "The City Rail Link has been identified by the people of Auckland as the top priority for transport in Auckland, yet the Government has missed the opportunity to fund this essential piece of infrastructure in favour of largely unnecessary roading projects."
The motorway projects in the Budget include an immediate start on three Northern Motorway improvements, five projects on the Southern Motorway around Takanini and scoping the east-west link through the industrial southeast.
Mr Brownlee said the projects would capitalise on work under way, such as the western ring route.
Fast-track for motorways
$450m on Northern Motorway, including having three lanes from Constellation Drive to Greville Rd northbound.
Construction 2013-2020
$210m on Southern Motorway, including having four lanes from Manukau to Hill Rd.
Construction 2014-2017
$140m on upgrading State Highway 20A's northern approach to airport.
Construction 2015-2018
$10m on investigating the East-West Link.
Work over the next year.
$5m progressing Ameti project between Panmure and Pakuranga.
Work over the next year.