Trials of a drug to battle 'gunk' offer more lifesaving hope than the initial test results suggest, says NZ expert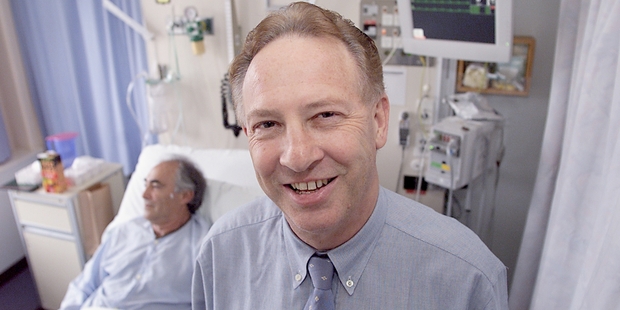 Deep in the chest of most people who have a heart attack there is a small piece of gunk that has been building up for decades.
Doctors call it the "necrotic core" - their scientific name for a nasty little collection of fatty stuff and dead immune system cells that builds up in lesions within heart artery walls. Gunk.
"It's within the plaque [the lesion] and it expands," says Professor Harvey White, director of coronary care and the Green Lane Cardiovascular Research Unit at Auckland City Hospital.
"It finally ruptures and causes a heart attack. The plaque ruptures and the clot blocks the artery."
At least two processes are at work. The lesion grows inwards from the artery wall and can block the artery, and when a lesion ruptures, it releases gunk and promotes blood-clotting, which can cause the blockage.
Professor White is at the centre of a large international research programme into an experimental drug, darapladib, which has been shown to halt the progression of the necrotic core, the gunk, in heart-artery plaques.
It is thought that this change in the composition of the plaque stabilises it, making it less likely to cause a heart attack.
The drug, developed by pharmaceuticals giant GlaxoSmithKline, inhibits an enzyme found in the blood and called lipoprotein-associated phospholipase A2 (Lp-PLA2).
It is linked to an increased risk of heart attacks.
"There is a genetic type associated with not having Lp-PLA2," says Professor White.
"In Korea, China, Taiwan and Japan, about 20 per cent have one of the two genes and 2 per cent have two of the genes."
People with one copy of the gene have 20 per cent less of the enzyme and 20 per cent less heart artery disease; those with two copies have almost no Lp-PLA2 and virtually no heart artery disease.
Heart attacks caused by blocked coronary arteries are New Zealand's second most common killer, behind cancer. They kill about 5000 people a year, which in 2010 was 19 per cent of all deaths.
The death rate from heart attacks and strokes has dropped dramatically since 1970 because of improvements in diet, the reduction in smoking and improved medical treatment.
But Professor White said New Zealand still had a big need for new treatments to reduce deaths of people who survive an initial heart attack.
He said no statistics were available for New Zealand, but in Australia 8 to 10 per cent of such patients died within the first year. A further 8 to 12 per cent had a second non-fatal heart attack.
Huge hopes were riding on a GSK-funded clinical trial of darapladib, reported in the New England Journal of Medicine this month.
The international trial of nearly 16,000 patients with stable - well-treated - coronary artery disease, including 200 in New Zealand, "did not significantly reduce the risk of ... cardiovascular death, [heart attack] or stroke," says the journal article, of which Professor White was first author.
It found that 9.7 per cent of patients had died from cardiovascular disease, had a heart attack or had a stroke after median follow-up of 3.7 years in the group randomly assigned to receive darapladib, compared with 10.4 per cent in the placebo group.
This could be seen as the failure of GSK's $500 million research programme on the drug, a negative finding.
But Professor White said this was not so.
"The trial failed to reach its primary end-point. I prefer that to 'negative' or 'neutral', because neutral means there's nothing going on, and I think there's information here."
He highlights the fact that the journal allowed the authors to say there was "a signal of possible efficacy" from darapladib treatment. This was based on a "nominally significant" reduction in major coronary events and total coronary events.
This might seem like splitting hairs, but Professor White said that despite the general absence of statistical significance, the findings on a range of measures tended towards efficacy for darapladib.
One of the reasons for the seeming lack of clear effectiveness may lie in the type of trial. It was designed to test the incremental effect of a new therapy in patients already well-treated.
The participants were all medically stable - following a heart attack or procedures to treat coronary heart disease - and high proportions were receiving standard care, especially cholesterol-lowering statin drugs, taken by 96 per cent.
This may have masked the effects of darapladib, as statins reduce Lp-PLA2 levels by up to 33 per cent.
In a paper published last year, Professor White and colleagues re-analysed data on Lp-PLA2 from a 1990s trial of statin medication effects on rates of coronary heart disease death and heart attack.
They found changes in levels of the enzyme appeared to account for more than half of the treatment effect of the pravastatin medication - and seemed to be at least as important as reductions in blood levels of "bad" cholesterol.
"Of all the advances in medicine, statins are the biggest development since penicillin," Professor White said. "We've had no development in secondary prevention - in lipids [including cholesterol] and the inflammation pathway - since 1994, 20 years, so to have a hint of something going on is really important."
Although the darapladib trial didn't achieve its primary target, it threw up potentially important implications for sub-groups.
"Smokers have high Lp-PLA2 levels and we know smokers do badly, they are prone to clots," said Professor White.
"We found a big effect [of darapladib] in smokers, a 23 per cent reduction in the primary end point of cardiovascular death, heart attacks and stroke. It was significant, but has to be interpreted cautiously because the primary end point wasn't positive.
"We suspect that if you have higher levels of the enzyme, as already shown in the smokers, there will be a bigger effect. That would lead us to measuring this in patients, targeting patients at higher levels, much as we do with cholesterol."
He also hinted there had been findings relevant to diabetes.
"We're looking carefully at it. If there's a reduction in diabetes - 96 per cent of the patients were on statins and statins increase diabetes - it will be terrific ... It reduces inflammation in coronary arteries and maybe does it in the pancreas."
Dr Stewart Mann, associate professor of cardiovascular medicine at Otago University, Wellington, said the darapladib trial was discussed at the recent World Congress of Cardiology in Melbourne.
"People were quite excited about the possibility of it stabilising plaques in arteries and preventing them becoming inflamed and triggering a heart attack.
"This is the first really big trial of a compound in that class. The overall result of not-quite significant is a bit disappointing, but there are hints of maybe more to come in sub-groups."
"This is perhaps a consequence of usual care being so effective that it is a challenge for a new agent to make a big difference.
"However, there are still many people with apparently stable symptoms who have a heart attack which damages their heart muscle, so preventive treatments still need to be explored."
Heart Foundation medical director Professor Norman Sharpe said the darapladib trial results suggested specific subgroups might benefit if they could be accurately identified.
"We are now moving into an era of more accurate profiling which may allow much more accurate treatment selection, rather than treating all the same, which the past generation of clinical trials has promoted.
"Certainly there will always be a need for even more effective medications generally, but for prevention ... the challenge is to identify those at risk, ensure access to treatment and then support long-term adherence.
"We do have very effective medications which in combination can reduce risk by more than half but we have yet to apply them for maximum benefit for those in need."
All hopes for darapladib now hang on a second large international trial, called SOLID-TIMI 52, which will report this year.
It is testing the drug's effects in less-stable patients who were put on the drug within a month of a heart attack, so it is possible it may show a bigger effect.
"If the signal in SOLID is negative, it's not important," said Professor White, "but if it's positive we will be putting the [data from the] two trials together."

Testing time
• Trial of 15, 828 patients with stable heart artery disease
• Patients mostly receiving various standard heart disease therapies
• Randomly assigned to be given new drug darapladib, or placebo pills
• Trial's "primary end point" measure: death from cardiovascular event, or non-fatal heart attack or stroke at median follow-up of 3.7 years
• 9.7% of darapladib patients suffered these events
• 10.4% of placebo patients suffered the primary endpoint
• Darapladib not statistically significantly better
• But darapladib was significantly better on narrower measure that omitted strokes and looked at death from heart artery disease, non-fatal attack, hospital admission for unstable angina and having procedures to unblock or bypass blocked heart arteries.
• 14.6 - darapladib
• 16.1 - placebo