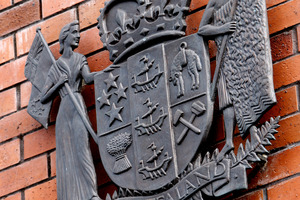 A farm manager who ran over and killed his young son in a farm accident near Gisborne has been sentenced to 40 hours community work.
Stuart Bryan Helm, 33, had pleaded guilty at the earliest opportunity to a charge of careless driving causing the death of his 2-year-old son Kitt Baxter Helm. The accident happened at Motu last September. He appeared for sentencing before Judge Tony Adeane in Gisborne District Court this morning.
Counsel Bryony Shackell applied for a community-based sentence in lieu of disqualification.
Judge Adeane agreed to grant it, noting police opposition turned on Helm's "certain previous convictions".
"But those convictions were different in character and did not involve the same issues," the judge said.
The incident was "tragic in the extreme", Judge Adeane said.
The court heard that Helm took his 2 and 4-year-old children on the back of his vehicle a short distance across the farm to pick up a trailer. It was the kind of thing that happens every day in farming life, if not the wider community.
The children had been instructed to some extent on how to keep safe, but when Helm went to reverse in order to hook up the trailer his little boy must have failed to appreciate the manoeuvre and alighted. He was run over.
Helm's blameworthiness was at the lowest end of the scale, the judge said. His degree of carelessness was extremely small.
It would be a cruel imposition for the court to impose any further punishment on him and it would achieve very little.
It was not a case that required disqualification. However, not notwithstanding the disproportionate tragedy, it was necessary legal process to impose some sentence in lieu of the disqualification being waived.